Team Sahlen Welcomes honeybeeBase.com as Newest Partner, "A Data Acquisition System for Your Business"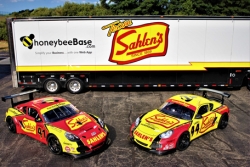 North Canton, OH, September 17, 2017 --(
PR.com
)-- Team Sahlen welcomes their newest partner, honeybeeBase.com to their 2017 campaign. honeybeeBase.com is a cloud-based web app for businesses to manage their human resource services to their team members.
Team Sahlen's Sporting Director, Will Nonnamaker shares his excitement in having honeybeeBase.com become a part of the Team Sahlen campaign - "We are really honored to be chosen by honeybeeBase.com as part of their continued education to the business public of their cloud-based web app. The partnership with honeybeeBase.com will not only include our remaining four events in 2017, but we have some very exciting programs planned for 2018 that will integrate the racing campaign into honeybeeBase.com's avenues for communicating the web based app's services."
Ian Giebeler of honeybeeBase.com. shared how racing is a perfect format to share the dialogue of what this cloud-based web app is all about – "For many, many years, race teams had very few ways of analyzing the performance and status of the race car on track. Then came along Data Acquisition Systems and this changed the whole dynamic of how to go racing. The best acquisition platforms were those that integrated all the data different into one concise system. This included providing data in regards to engine monitoring, lap time sectors, suspension/tire monitoring, all while the car was on track. This is exactly what honeybeeBase.com provides to a company's management team. Instead of a different web app for each human resource and business need, honeybeeBase.com provides a full menu of applications all on one cloud-based web app. No longer do businesses and human resource departments have to log on to and pay for several unique services. Now, with honeybeeBase team, members can log in from any mobile device to their own personal data acquisition system about their business. We are excited to use the platform of Team Sahlen to spread this message in the years ahead."
Team Sahlen has been utilizing the honeybeeBase™ web app for over 2 two years now. These systems include the Paid Time Off, Attendance & Vacation Tracking, and the Payroll Time Clock. The one system that has been extremely beneficial is the Peer Recognition Medal System. This is a digital medal that one employee can give to another employee for their efforts. Medal types include "Great Communicator," "Excellent Teammate" and "Hard Worker."
Team Sahlen's Car Chief Tony Artino shared his experiences with the Peer Recognition Medals - "In the high stress environment of the racing world, there are so many ups and downs. When a team member works late to fix a car, you want to do something to show your appreciation. I know that I really enjoy looking at my dashboard of medals from my teammates sharing their appreciation."
About honeybeeBase.com: Multiple Systems in 1 Simple Web App
The need to increase employee efficiency and decrease office paperwork processing is becoming paramount in this dawning age of technology. honeybeeBase.com understands this need to have a cloud-based web app on a mobile device to make team members' lives easier. The problem arises when each solution to a problem requires a completely different web app. This means multiple web apps that do not function together and multiple costly monthly service fees. This is why honeybeeBase™ was created. honeybeeBase.com provides you with all of these functions on one simple web app at one basic affordable investment per month.
honeybeeBase.com Multiple Systems: $30 per month for the complete package
Payroll Time Clock Management
PTO, Attendance & Vacation Tracking
Counseling Reports
beeMail
Quizzes & Testing
Peer Recognition Medals
Food Date Labeling
Comm Log
Daily News Posting
File Sharing Upload Storage
Bright Ideas Box
Flagged Words
Click here for your free 1 month free trial:
www.honeybeebase.com
About Team Sahlen: Championship Winning Sports Car Endurance Racing Team
Team Sahlen has a rich history in Sports Car Endurance Competition. In the team's inaugural year, the team won the 1984 SCCA Endurance SSC class racing a Volkswagen Golf. This was followed by winning the same Championship in 1987. In 1997 and 1999 the team secured the IMSA Endurance Touring class Championships racing the Mazda MX6. The team then switched to Acura Integras and won the 2001 & 2002 Grand American Endurance ST Titles again. Next the team moved up to the IMSA Endurance Championship and secured the 2003 & 2004 Titles racing Porsche 911s. The team then transitioned to the Grand American ROLEX series competition, racing a variety of cars that included Porsche GT3 Cup, Pontiac GTO, Chevrolet Corvette and Mazda RX7. During this period the team captured the 2005 and 2011 Bob Akin Sportsman Awards in the GT class. In 2013 the team competed in the top level of Sports Car Racing – the Prototype class in the ROLEX Series. This 1st year in Prototypes saw the team secure 2 Pole Positions, many laps led and securing the Jim Trueman Sportsman Award. In 2014, Team Sahlen returned to the IMSA Endurance Championship, securing Porsche the Manufacturer Championship, and narrowly missing out on the ST Driver & Team Championship. During 2016, Team Sahlen competed in 3 Endurance Series (American Endurance Racing, World Racing League and ChumpCar World Series) and achieved the unique distinction of winning overall in each of the 3 Endurance Series.
Check out the latest on Team Sahlen News at:
www.TeamSahlen.com
Team Sahlen All Time Statistics:
Driver Championships: 7
Team Championships: 7
Manufacture Championships: 12
Victories: 53
Podiums: 159
Fastest Race Laps: 41
Pole Positions: 42
2017 Team Sahlen Campaign Partners:
honeybeeBase.com, eEuroparts.com, Tarett Engineering, Guard Transmission, Porsche of Beachwood, Pittsburgh International Race Complex, HubstandsPRO, Brothers Grimm Landscaping, Optima Battery, Winding Road Racing, NGK Spark Plugs, CM Racing Products, Maxima Racing Oil, Mothers Polishes, Grassroots Motorsports Magazine, Design Engineering Inc., Hard Brakes, Forgeline Wheels, Alcon Rotors, LaminX, MSI Racing Products
Contact
honeybeeBase
Tim Weyer
234-262-0005
www.honeybeebase.com

Contact