A New Dynamic in Changing the Minds of the Lighting Industry-Luminaire Marketing Fills a Void in a Rapidly Evolving Industry
Lana Rice never expected to be creating a niche in the commercial lighting industry when she was asked to develop a luminaire selector 4 years ago by a leader of one of the largest lighting agencies in the country. What she thought would be a custom web design for one manufacturer's representative has grown into a much-needed full-scale agency providing marketing services to the lighting industry.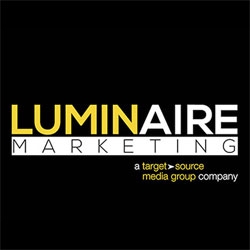 Richardson, TX, September 19, 2017 --(
PR.com
)-- With a deep belief that research is everything, Lana set out to learn everything she could about the lighting industry. Her research found that lighting manufacturers rely heavily on lighting agencies to specify their products, but there is a collaborative information gap between the two. Lighting agencies still rely heavily on line cards and catalogs and a great deal of time is spent searching manufacturer sites for specifiers. Ms. Rice states, "The adoption rate of LED technology has happened quickly in the lighting industry; however, very little marketing is being done by lighting agencies or distributors, and they have been slow to take advantage of new sales and marketing tools." She feels her company, Luminaire Marketing, can help fill the gap. By working on projects for agencies and manufacturers, she determined that web design, marketing tools and strategies for lighting professionals requires a clearly defined knowledge of terminology, processes, industry standards and specific functionality.
"The industry is moving a warp speed in technology, which dictates a paradigm shift to stay in the forefront. Just as importantly, web design, sales, and marketing tools need to be integrated into the very defined process of how fixtures are sold. Luminaire Marketing believes in market research. Knowing how to meet the needs of market require knowing what the market needs," says Ms. Rice. The lighting industry is poised to grow substantially over the next few years as integrated lighting technology continues to expand; how that will filter down to the local market is key. Luminaire Marketing wants to be a part of finding solutions for all participants.
In the process of researching the needs, the Luminaire Marketing team's custom luminaire selector went from infancy to a full-scale software program.
TheLuminaireSelector.com
, 2.0, is a full online catalog of fixtures, a project builder, sales, and marketing tools. "It's a game changer," states Ms. Rice. "As technology expands so can The Luminaire Selector." Ms. Rice also knows there will be a challenge in changing the way the lighting industry has worked in the past but believes what her company can offer will light a new path to meet the industry's fast-moving pace.
Contact
Luminaire Marketing
Lana Rice
214-336-4105
www.luminairemarketing.com

Contact