External Materials for Zortrax M Series Printers; Advantages, Disadvantages and How to Use Them Properly
Zortrax is not only a printer. Zortrax has created a whole ecosystem, which includes machines, dedicated software, and high-quality materials made especially for their hardware. Providing comprehensive solutions was the idea from the beginning, because it was the best way to get the best quality without wondering about filament or slicer issues.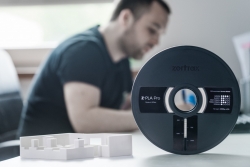 New York, NY, September 28, 2017 --(
PR.com
)-- But users have always wanted to experiment with other materials. Sometimes because of a specific color they needed (despite the huge choice of palette), sometimes because of specific physical parameters needed for an unusual application. And sometimes just to get cheaper (and often low-quality) material.
Until May 2017 there was a clear rule – Zortrax did not lock the printers, and the usage of third-party materials was available, but in case of any problems, the Zortrax warranty card would not cover issues connected with external materials. But that month Zortrax changed it. Now, Zortrax has adapted itselves to the public's needs and
removed warranty restrictions on using external materials
.
Zortrax also added an "external materials" option in the Z-SUITE "advanced" tab, which gives you the possibility to adjust major parameters such as hotend temperature, build platform, printing speed, material flow, retraction speed, retraction distance, and top and bottom layer infill percentage. RepRap users know the parameters of open-source slicers, but Zortrax-only users might feel a bit lost.
So how do you use them?
Firstly, please open Z-Suite 1.10 or above, load the models you want to print, and, after adjusting their position, push the "print" button in the lower-left corner. Then, switch to the "Advanced Settings" tab and choose "External Materials" from the "Materials Group" list.
Choosing materials
When changing the materials group to external, "z-"prefixes disappeared from the "Material Type" list. But now, Zortrax has "-based filament" suffixes. What does this mean? For example: a PLA-based filament might be pure PLA material, but it can be also Woodfill, Bronzefill, Laybrick, or another material, which is based on PLA, but have some add-ons. Choosing the proper material type will pre-set the parameters.
Then, please choose layer thickness – thinner layers give better quality and smoothness, but increase build time.
The differences in 3D-printer temperature settings
Lower bed temperature reduce printers' power consumption. Higher bed temperatures prevent objects from warping.
Lower hot-end temperatures help you with overhangs and prevent stringing. Higher hot-end temperatures increase objects' durability and prevent nozzles from clogging.
Typical temperatures for your material should be written on the spool, box, or manufacturer's website. If not, contact the vendor.
Retraction settings
Retraction can be understood as some kind of "trick" which prevents nozzles from oozing (stringing). How does it work? When the printhead travels from one place to another, and you do not want material to be extruded, the extruder motor quickly rotates counterclockwise and pulls material upwards. The default retraction parameters are relatively good in most cases. If strings on your prints appear, please increase distance and speed. If the nozzle clogs, please reduce the distance (and maybe the speed).
Printing speed
The default printing speed in M-series printers is optimal, but there is a possibility to increase it to get your jobs done faster. Just remember, that higher speeds can affect quality.
Top/bottom infill
Top and bottom layers are usually printed with 100% infill to close objects. If there are gaps between lines, you should increase them. When lines collide and overlay, you should decrease them.
Extruder-flow ratio
This is the amount of material being extruded. If the prints are not strong enough, or there is too much space between perimeter lines, please increase the flow. If perimeter lines overlay too much, and horizontal rings appear, please reduce the flow.
And that is only the beginning, because Zortrax has just announced a new version of Z-Suite (2.0 beta), which will give even more functionalities such as changeable infill patterns, precise infill-percentage settings, the possibility to save printing profiles, and even a thin wall analysis tool.
Contact
Zortrax
Marcin Niedzielski
+48 22 448 70 00
https://zortrax.com

Contact