NC Motivational Speaker Kelly Swanson Featured in Reality TV Show Airing October 6, 2017
NC Motivational Speaker, Comedian, and Storyteller, Kelly Swanson will appear in the upcoming TV show, The Fashion Hero, airing on Amazon Prime on October 6, 2017.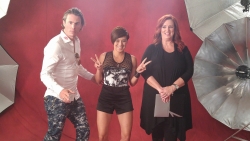 High Point, NC, October 05, 2017 --(
PR.com
)-- Kelly Swanson (High Point, NC) award-winning storyteller, motivational speaker, comedian, author of "Who Hijacked My Fairy Tale," and strategic storytelling expert, will be featured in the upcoming television show "The Fashion Hero" airing October 6th, 2017, on Amazon Prime.
The television show is actually part of an online global movement dedicated to changing the unrealistic standards imposed on models by the fashion industry. The movement upholds the belief that beauty comes in all sizes, shapes, colors, accents, and identities.
The television show, hosted by Brooke Hogan, daughter of Hulk Hogan, gathers contestants who have competed online and won enough votes to compete on the show. In a series of episodes, the contestants are put through rigorous physical and emotional challenges, in front of four nationally known clothing designers. At the end of the show each designer chooses one winner to become the model for their clothing line. The show is filled with drama, compassion, humor, and heart.
Kelly Swanson was cast in two episodes as the celebrity mentor. As a motivational speaker, she was brought in to teach the contestants how to tap into their true inner beauty and rewrite their inner script to achieve a higher level of confidence and self love. As a strategic storytelling expert, she then taught them how to harness the power of their story to connect and engage on camera and be better storytellers of their brand.
Kelly's endearing wacky sense of humor, powerful words of encouragement and wisdom, and knowledge on how to use story to win in life, made her a hit on the show. Not only was she a gift for the contestants, she has a powerful message for all those who watch. The movement is truly changing the face of beauty. As Kelly says it best, "It's the soul that makes you beautiful. The rest is just window dressing."
For more about the show go to Amazon.com. You must have a Prime membership to view the show in their new release section. For more about the movement, or to find out how to compete to be a contestant on season 2, go to
www.TheFashionHero.com
. And for more about
Kelly Swanson Motivational Speaker
go to www.MotivationalSpeakerKellySwanson.com.
Contact
Kelly Swanson, Motivational Speaker
Kelly Swanson
336-880-7086
www.MotivationalSpeakerKellySwanson.com

Contact