Anita Antoinette Debut Album Release
Midilord Inc. announces Anita Antoinette's debut album titled "Smile" is now available.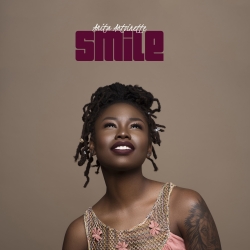 Miami, FL, October 09, 2017 --(
PR.com
)-- Anita picked the title of her independent debut album via Instagram. She reached out to her tens of thousands of fans on social media to help her decide on a title. On August 24th she wrote the suggestions on pieces of paper and withdrew the paper that had "Smile" written on it. Anita has always been appreciative of her fanbase for supporting her when she was on The Voice and stuck with her to date.
CD copies of Smile is available on
www.anitaantoinette.com
for a limited time only as a signed collector's item. Digital downloads and streaming of the album have been available as of October 1, 2017. Smile will be available on Apple Music, Spotify, Amazon, and about 50 other online stores. Her first single titled "Care" was previously released on June 15th 2016. The Album will represent Anita's musical palette with a mixture of Reggae, World Music, Folk and Blues.
Anita Antoinette grew up dancing to the rhythm of her father's songs, reggae icon Clinton Fearon in Kingston, Jamaica. She migrated to the United States in 1997, where she settled first in South Boston and then New Britain, Connecticut with her mother, brothers, and sister. A self-taught singer and guitarist, Anita began writing her own music as a teenager, inspired by her father and legends such as Bob Marley, India Arie, and Erykah Badu. She graduated from the prestigious Greater Hartford Academy of the Arts in 2008, and was accepted to the Berklee College of Music in Boston, Massachusetts, where she earned a Bachelor's Degree in Professional Music with a Concentration in Music Business and Songwriting.
Anita has performed on stages large and small throughout New England, the Northeast and the Pacific Northwest, including a 2008 appearance at the Library of Congress in Washington DC. She has appeared on the 3rd and 7th season of NBC's hit show, "The Voice." Her 7th season audition has been dubbed the second best audition in the history of the show by TV Guide and she worked her way to be one of the top ten finalists. She easily become one of the most loved and talked about contestants on "The Voice."
In June of 2016, Anita Antoinette was appointed Caribbean American Heritage Month Musical Ambassador by The Institute of Caribbean Studies. As Musical Ambassador her responsibility was to bring awareness and celebrate the contributions Caribbean Americans make on the world and enhance Caribbean traditions. This gave Anita the opportunity to perform her single "Care" which was released on June 15th 2016 at The White House, Capitol Hill, and The Inter-American Development Bank.
An artist in every sense of the word, Anita Antoinette paints, writes poetry, draws and takes pictures while continuing to write and produce music.
Contact
MidiLord Inc
Duane Summers
786 423 6500

Contact