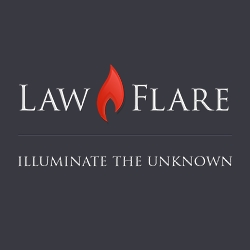 Sarasota, FL, October 17, 2017 --(
PR.com
)-- Lawyer Adam Dunn and Lead Designer Josh Sears, winners of Publicis90's Most Innovative Tech Startup Award for their app KardmaDue, have joined forces again to create a powerful online tool called LawFlare, allowing lawyers to instantly gather valuable, and often hidden, background information on potential clients, jurors and witnesses.
"Using LawFlare has saved me countless hours of time. To individually find all of the data that this tool provides within minutes would take ages. LawFlare delivers results fast, so that I can focus on what's important: finding the best jurors for my case." - Craig Beverly, Esq.
Created for lawyers by a lawyer, LawFlare is a Cloud-based software solution that shortens the length of time spent deciding trial candidates by instantly aggregating relevant online data on them such as education, career, political and social behavior. Contact information typically hidden behind paywalls, such as phone numbers, are often even made available.
Not only does LawFlare's deep-search algorithm compile this information in minutes, it's sleek layout makes organizing, documenting and analyzing it all a breeze. Lawyers can quickly combine a candidate's online data with other critical details, compile jury shortlists, enter win/loss histories for each case and, impressively, use LawFlare's powerful Advanced Case Analytics to chart and track patterns useful in maintaining win rates.
Additionally, subscribers enjoy prompt customer service including phone-based tech support and real time chat.
Cofounder Adam Dunn, having a Master in Laws (LL.M) in IBL, and working in both intellectual property and criminal law, knows exactly what lawyers need to give them the extra advantage in a case. "Previously I used the internet to manually research each potential juror," says Adam. "The process was incredibly time consuming, spending up to two hours per individual. However, it was worth it, as I learned an incredible amount about each juror from their online digital footprint - who they were, career history, social media postings and, ultimately, how they think and present themselves. Like a direct line into the juror brain. Now that we've created LawFlare to do this same valuable research in minutes, not hours, I wouldn't prepare for a high stakes trial without it."
Co-founder Josh Sears, designer of the software itself, also believes LawFlare will be a game-changer for lawyers. "This tool is no simple search engine. We have developed a refined, focused algorithm based on hours of research and interviews with trial attorneys," says Josh. "Search criteria is broken down to highlight telling behavior, political affiliations, past run-ins with law enforcement and other focused topics that will make juror, client, and witness selection a faster, more productive process than ever before."
LawFlare's clean, intuitive design is a trademark of Josh's effortless style, which has been featured in Wired, TechCrunch and on The Today Show. Additionally, his grassroots approach to business helped launch Mapifypro, a quarter million dollar product Josh created with an initial investment of $600, among other successes.
Overall, Josh and Adam believe LawFlare redefines the way lawyers:
- use their time researching jurors, clients and witnesses, and in preparing depositions, allowing hours of work to be captured in minutes
- are able to increase case win-rate by assembling the very best jurors and witnesses
- evaluate their entire practice, gaining valuable insight via LawFlare's powerful analytic tool set
LawFlare is available on a three-tiered pricing plan starting at $33, with a 15% off promotional discount on now.
For more information or to arrange an interview with the founders, please contact:
Email: hq@lawflare.com
Ph: 941-315-5692
Get LawFlare Here
Download LawFlare photos and media kit here: https://lawflare.com/press-kit/
Twitter: https://twitter.com/lawflare
Facebook: https://www.facebook.com/lawflare/