Runners Don't Need to Roll Up Their Sleeves for the Detroit Free Press Chemical Bank Marathon
ObservaMé combines high fashion and high tech with its patented sleeve opening.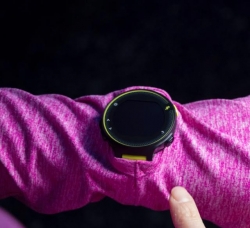 Detroit, MI, October 12, 2017 --(
PR.com
)-- ObservaMé (pronounced ob-serve-a-may) simply means "watch me," is a brand-new fitness apparel line that incorporates both function and fashion for wearable technology fitness trackers. The Tampa, FL based brand is excited to announce its participation at the Detroit Free Press/Chemical Bank Marathon at the Metro Detroit Chevy Dealers Health and Fitness Expo October 13th and 14th at the Cobo Center. During the expo, ObservaMé will be debuting 3 new colors: pink and grey, heather and grey, and black heather. The new exciting colors give our fans even more stylish options to choose from in our fashionable fitness apparel line.
Fitness trackers have fast become staples for many people who are looking to track their progress towards their fitness goals. One problem, when cooler weather requires long sleeves or a jacket for you to exercise outdoors, your sleeve covers up the fitness tracker, making it difficult to see your progress. Wearing the fitness tracker over your sleeve means the tracker may not function properly when it is not in contact with your skin or restrict the movement of your sleeve causing discomfort while exercising or training.
ObservaMé founder Karen Fultz, an active runner herself, set out to come up with a solution to the problem. She came up with ObservaMé; jackets, arm covers and long sleeve shirts with a patented design of an opening in the sleeve for the fitness tracker so that you can monitor your tracker while exercising or training. "Solving the constant problem that runners run into during cooler weather training or performance. We normally wrap the watch around our sleeves. Now, you don't have to do that. You can enjoy your training and watch your goals (pace, heart rate, distance, etc.) without losing comfort and warmth from your active wear," Fultz says.
In addition, when running, runners may want to ditch the fuel belt, but still need a place for storage for cell phones, keys, or cards. The ObservaMé designs come equipped with a rear pocket with a zipper, perfect for storing everything you need to take with you.
ObservaMé clothing designs are just as fashionable as functional. All designs are comprised of light micropoly and spandex fabrics, complete with moisture wick technology to keep you cool and dry as you exercise. There are half zip shirts, hoodies and jacket hoodies in beautiful colors such as pink, navy, eggplant, blue, blue and white, black or white. The fabrics also come in different weights to accommodate various outside temperatures.
Available for purchase this weekend at the ObservaMé booth during the Metro Detroit Chevy Dealers Health and Fitness Expo, or online at http://www.observame.net/
Karen Fultz is available for pre-event interviews for reporters working on Marathon preview stories by calling Andrea Kurjah from ARK Public Relations at (727) 776-8113, or email andrea@arkpublicrelations.com
Contact
ARK Public Relations
Andrea Kurjah
727-776-8113
arkpublicrelations.com

Contact