Hurricane Harvey Food Relief Efforts Get a Much Needed Boost from "Feeding Texas" Organic Growers
Organic Growers Across from California, Oregon, and Arizona send truckloads of organic food to Victoria and Corpus Christi Texas into Feeding America, Feeding Texas food banks, and disaster zones.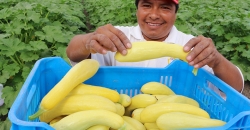 Nogales, AZ, October 16, 2017 --(
PR.com
)-- 70,000 pounds of organic fruit and vegetables was shipped to Harvey Relief disaster zones. Twenty three Certified Organic growers and distributors from around the country joined forces to help victims of Hurricane Harvey in Victoria and Corpus Christi Texas led by the team at Wholesum Harvest.
Jessie Gunn of Wholesum Harvest, who started the effort, paid for one of the trucks from Los Angeles, CA to Corpus Christi TX. "I knew we could not stand by and do nothing to help knowing we had the resources to send food to those without access to any, especially organic produce," Gunn states. When she reached out to others in the organic grower community, putting together donations from western farms, large and small, began to fall into place. "It is the nature of organic farmers and businesses wanting to care for people with food,"
she adds.
Tom Lively of Organically Grown Company in Eugene Oregon was one of the first to jump at the opportunity to help. David Weinstein of Heath & Lejeune, fresh produce wholesalers in Los Angeles, allowed the collection of donated organic foods and build the trucks at their cross dock.
Karen Salinger of Veritable Vegetable was ready to do whatever she could to help. "These parties ignited a network of organic producers and had pallets upon pallets lining up to fill the trucks, so it wasn't one farm, one grower, it was the organic agricultural industry saying, yes, absolutely we can and want to help." It was Fernando Bojorquez of F & A Freight out of Nogales Arizona who donated $5,500 to cover freight costs.
Two trucks were fully loaded with 42 pallets of all organic produce including: potatoes, tomatoes, carrots, watermelons, yams, pineapples, celery, broccoli, oranges, apples, strawberries and cucumbers. Robin Cadle, CEO of Food Bank of the Golden Cresent received a truck full of organic produce for the people effected in his area. "A big thank you for your generous donation and support during this catastrophic time. You are certainly hunger action heroes," Cadle says regarding the shipment the foodbank received. The Food Bank of Corpus Christi received the other full semi truck full of organic produce in the heart of the devastating areas hit hardest by Hurricane Harvey.
The following growers donated at least a pallet of their harvest to this effort:
Access Organics
Andersen Organics
AV Thomas Produce
Awe Sum Organics
Corona-College Heights
Cuyama Orchards
Covilli Brand Organics
Deardorff Family Farms
Deer Creek Heights Ranch
Fraserland Organics
Fujii Produce
Heath & Lejeune
Naturipe Farms
Organically Grown Company
Organicgirl
Organics Unlimited
Sundance
The Jewel Date Company
Top Brass Marketing
Veritable Vegetable
Viva Tierra
Wholesum Family Farms
Contact
Verb Media Group
Michelle Renee
619-913-7020
verbmediagroup.com

Contact
Multimedia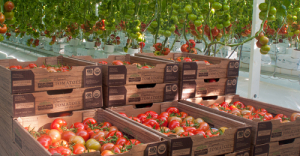 Organic tomatoes among tons of organic produce shipped to those affected by Hurricane Harvey