American PetroLog, LLC Expands Services with Fleet of Domestic ISO Tanks
American PetroLog, LLC expands their service offering by investing in domestic ISO tankers. This service will provide the chemical industry with reliable and cost effective alternative to the rising costs of traditional over the road tanker trucks.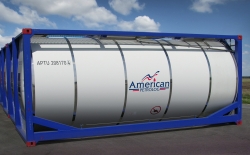 Lafayette, LA, October 18, 2017 --(
PR.com
)-- American PetroLog, LLC has announced they have invested in a fleet of domestic ISO tanks providing a cost effective solution to agricultural and chemical manufacturers and distributors. American PetroLog's Chief Relationship Officer, Robert Kellner said, "with the continued growth in the North American chemical industry and the diminishing availability of tanker trucks, our ISO tanks provide a much needed capacity solution to our customers having predictable and consistent shipping lanes." Kellner added that "our ISO service gives chemical and ag manufacturers and distributors what they expect and deserve from their logistics partner- reliability, predictability, innovation, cost effectiveness and safety."
American PetroLog, LLC is an innovative leader in the logistics industry with a dedicated team of professionals that are focused on solving the complex supply chain challenges of their customers. Service offerings include nationwide logistics services, supply chain management, dedicated trucking fleets and in the Dallas-Ft Worth, TX area they have a BNSF served transloading and storage facility. Company locations include Philadelphia, PA; Asheville, NC; Baton Rouge, LA; Lafayette, LA; Cincinnati, OH; Houston, TX; and Venus, TX.
Contact
American PetroLog, LLC
Jeff Colonna
856-536-0055
www.AmericanPetroLog.com

Contact