Vindor Music Launches Easy-to-Play Electronic Saxophone on Kickstarter
Vindor Music, a developer of affordable electronic instruments, has launched a crowdfunding campaign on Kickstarter for its electronic saxophone, the Vindor ES1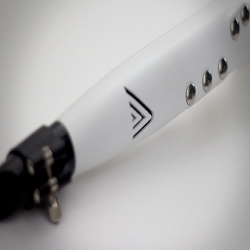 Somerville, MA, October 18, 2017 --(
PR.com
)-- Vindor Music, a developer of affordable electronic instruments, has launched a
crowdfunding campaign on Kickstarter for its electronic saxophone, the Vindor ES1
.
The Vindor ES1 is lightweight, durable and designed for children over six years old, high schoolers and adults. It is designed for anyone who wants to learn a new musical instrument; for anyone who wants a gentler learning curve to play a musical instrument; or musicians looking for a new musical experience.
As an electronic instrument, the Vindor ES1 eliminates high-pitched squeaks and out-of-tune notes, reducing learners' frustration of not producing clear sounds. This clarity encourages more time playing and enjoying music. The headphone jack allows players to practice at any time — including in noisy environments — without worrying about disturbing other people, or public embarrassment of mistakes that can demotivate learners. It can also be plugged into an amp and used as a MIDI sound controller.
"Our vision is to make playing a musical instrument accessible to everyone," said Fen Trias, CEO of Vindor Music. "This project was sparked from me watching my kids learning woodwind instruments. I saw their frustration and knew there had to be a better way. As we have tested the Vindor ES1 we've had amazing feedback on how fun, easy and accessible it is, and we're looking to take it to the next stage."
"Our top priority was to design and test an instrument that's fun and easy to play," said Joel Edinberg, chief musicologist for Vindor Music. "We tested the Vindor ES1 with players of all ages and musical levels, from seven-year-olds to professional musicians. I've been amazed at how quickly everyone was able to learn the instrument, including the people who have never played any instrument. We wanted to create an instrument that can be picked up and played easily by beginners yet offered a unique and fun experience for professionals with cool sounds and a four-octave span."
Mike Wilbur, saxophonist for Moon Hooch, an American band with sell-out shows around the world and has 2.3 million YouTube views of its NPR Music Tiny Desk Concert, has tested the Vindor ES1 and is using it on the band's current tour, said, "The Vindor ES1 is perfect for both in studio and on stage applications. It's light and portable body make it great for playing and practicing just about anywhere. I personally like to use it to make fat, dirty bass sounds. I would highly recommend this to any sax players interested in stepping outside of the box and exploring the electronic realm."
The Vindor ES1 is now available on Kickstarter with a funding goal of $15,000.
Vindor VS1 Features:
The Vindor ES1 is a portable and easy-to-play instrument. Features include:
Headphone jack: Practice in silence any time day or night by connecting any headphone to the headphone jack.
Amplifier connectivity: Complete compatibility with amplifiers to play with a group
Pedal connectivity: A 1/4" jack connects to any standard guitar effects pedal letting you create your own unique sound.
MIDI controller: The USB connector charges the battery and also provides MIDI connectivity to desktops, iPads and iPhones.
Built-in speaker: A small built-in speaker for personal playing.
Real mouthpiece: Use a standard clarinet mouthpiece for the feel of a reed, but not required.
Rechargeable battery: An in-built rechargeable battery which lasts for four hours on a single charge.
About Vindor Music Inc.
Vindor Music develops intuitive and affordable electronic instruments that make it easy to learn to play music. The Vindor team's vision is to simplify the way people learn to play instruments and connect through music. For more information about Vindor Music, its mission to rethink instruments and the ES1, please visit:
http://www.vindormusic.com
www.facebook.com/vindormusic/ |
Twitter: @VindorMusic
Contact
Vindor Music
Hazel Butters
617-530-0500
vindormusic.com

Contact