Marine Vet, Millennial HR Pro Tyler Koch Tapped to Join Forbes Human Resources Council
Tyler Koch of Houston, Texas has been selected for membership to the prestigious Human Resources Council of Forbes. Forbes Human Resources Council is an Invitation-Only Community for HR Executives Across All Industries. Koch comes from a leadership background in the Texas FFA Association and the United States Marine Corps.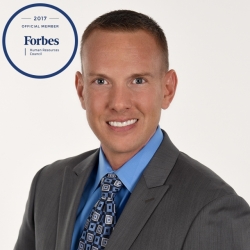 Houston, TX, October 23, 2017 --(
PR.com
)-- John "Tyler" Koch, SPHR, a Senior Human Resources Consultant and transitional defense-agency contractor has been accepted into the Forbes Human Resources Council, an invitation-only community for top HR executives across all industries. Koch joins other Forbes Human Resources Council members, who are hand-selected, to become part of a curated network of successful peers and get access to a variety of exclusive benefits and resources, including the opportunity to submit thought leadership articles and short tips on industry-related topics for publishing on Forbes.com. Forbes Councils combines an innovative, high-touch approach to community management perfected by the team behind Young Entrepreneur Council (YEC) with the extensive resources and global reach of Forbes. As a result, Forbes Council members get access to the people, benefits and expertise they need to grow their businesses - and a dedicated member concierge who acts as an extension of their own team, providing personalized one-on-one support.
Koch, a Henderson, Texas native and veteran of the U.S. Marine Corps turned HR Professional, has served in a variety of roles in the field ranging from corporate roles in mass retail and manufacturing organizations as well as the nonprofit sector. Koch has focused his efforts on the company culture and employee engagement sectors, to include the successful publishing of the best-seller, "Just Quit Already! The Employee's Escape Plan for a Toxic Culture."
Concerning his new opportunity with Forbes, Koch said, "I am excited and humbled to join such an elite team of HR professionals to collaborate and further our profession. I'm ready to get started!"
Scott Gerber, founder of Forbes Councils, says, "We are honored to welcome Tyler into the community. Our mission with Forbes Councils is to curate successful professionals from every industry, creating a vetted, social capital-driven network that helps every member make an even greater impact on the business world."
For additional details please contact the Koch-Tye Media Liaison, at Media@koch-tye.com, or visit http://koch-tye.com more information.
About Forbes Councils
Forbes partnered with the founders of Young Entrepreneur Council (YEC) to launch Forbes Councils, invitation-only communities for world-class business professionals in a variety of industries. Members, who are hand-selected by each Council's community team, receive personalized introductions to each other based on their specific needs and gain access to a wide range of business benefits and services, including best-in-class concierge teams, personalized connections, peer-to-peer learning, a business services marketplace, and the opportunity to share thought leadership content on Forbes.com. To learn more about Forbes Councils, visit forbescouncils.com.
Contact
Koch-Tye Holdings, Inc.
Michelle Olivas
713-352-8460
koch-tye.com

Contact