ENGworks Deals Resorts World a Winning Hand; BIM Firm Says Its Models Will Help Huge Vegas Hotel-Casino Open on Time
Resorts World is building a spectacular 18.6-million square foot, Chinese-themed hotel-casino complex on the Las Vegas strip. The first phase is set to open in 2020 at a cost of about $2.44 billion. Staying on time and on budget will be daunting challenges; to overcome them, Resorts World has chosen ENGworks, one of the world's top providers of BIM.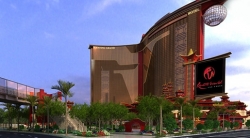 Costa Mesa, CA, October 25, 2017 --(
PR.com
)-- ENGworks, a leading provider of BIM (building information modeling) services, today announced it has been awarded a major contract to manage the BIM process for the $2.44-billion first phase of the Chinese-themed Resorts World hotel-casino mega-complex now being built in Las Vegas, Nevada.
The company said the contract calls for ENGworks to Model and Pre-Coordinate all Architecture and Engineering disciplines as well as map out a coordination-and-clash detection plan for the Trade Contractors to achieve on-time, on-budget completion of the ambitiously massive facility, which began rising earlier this year.
With some 7.9-million square feet of planned construction over the next three years, Phase 1 of Resorts World Las Vegas will involve building a trio of hotels, numerous restaurants, a bevy of retail shops, multiple nightlife venues, and approximately 100,000 square feet of gaming space.
"There is a lot riding on Phase 1 being completed on schedule," said ENGworks President Axel Kruger. "Our task is to find and map-out a clear pathway for on-budget, on-time completion."
ENGworks will Meet Challenge Head-On
A major challenge facing Resorts World Las Vegas is that many different components of the project will be built concurrently, with up to 1,000 construction workers representing a multitude of trades on site at any one time.
Consequently, there exists the potential for knotty sequencing and scheduling conflicts. These can be avoided with the help of top-of-the-line BIM modeling and related services.
"This is why the owners decided to mandate BIM throughout the project's lifecycle," said Kruger, who added that "more than 75% of the commercial projects currently being built in the U.S. employ BIM."
According to a Resorts World Las Vegas representative, "the larger and more complex the project, the greater the need for BIM pre-construction coordination – and, right now, there are very few commercial projects larger and more complex anywhere in the world than Resorts World Las Vegas. So the decision to utilize BIM was really a no-brainer."
ENGworks won the Resorts World Las Vegas contract in September after the project owners – Malaysia-based Genting Group – included Kruger's firm on a candidate shortlist of top BIM providers.
"ENGworks is one of the very few BIM services companies on the planet with the size and experience to handle a job as enormous as Resorts World Las Vegas," said Kruger. "We offered exactly what Resorts World needed – advanced and robust technology plus superior expertise. Resorts World liked what it saw in our portfolio of high-caliber projects, which includes Disney Springs, a futuristic headquarters complex for a leading consumer electronics company, and many others which can be viewed at our website:
https://engworks.com/portfolio/
"
ENGworks BIM Modeling will be Key
Kruger, who expressed great pride at being part of this construction project, characterized the work his firm will perform as a multi-faceted bespoke solution. One of the most vital pieces of that solution is BIM modeling all aspects of the project, he insisted.
"The design- and construction-efficiency of this project is tied in no small measure to the success of the job we do in producing BIM models," Kruger said. "They are essential to helping the builders avoid bottlenecks and other surprises that could potentially slow down the pace of construction or run up costs, or both.
"Resorts World Las Vegas is an incredible endeavor. We at ENGworks are fully confident that our contributions – including BIM Modeling of all disciplines, BIM Trade Coordination, Overall BIM Management performed with our scrum/agile project-management methodologies – will be invaluable in realizing the client's vision of Resorts World Las Vegas being a truly awesome place where people will flock for fun and excitement," said Valentin Noves, ENGworks BIM Manager On Site.
About ENGworks
Internationally recognized BIM (Building Information Modeling) services and solutions provider ENGworks develops processes, tools, and services for architects, engineers, contractors, trade contractors, construction managers, and manufacturers, as well as owners and operators. The Costa Mesa, California-based company's expertise includes BIM modeling of all Trades, BIM coordination, BIM for Fabrication, BIM content creation, 4-D construction scheduling, and BIM for Facilities Management. ENGworks serves private and institutional clients in the fields of healthcare, commercial, hospitality, industrial, infrastructure, entertainment, and education. Among ENGworks' public-sector clients are the U.S. Army Corps of Engineers, Department of Defense, Naval Facilities Engineering Command, Department of Veterans Affairs, U.S. Postal Service, and General Services Administration. ENGworks employs over 110 highly skilled technical professionals working from offices in Los Angeles, Chicago, Raleigh, Dallas, Sao Paulo-Brazil, and Cordoba-Argentina.
For more information, visit ENGworks at
www.engworks.com
or call (949) 340-6924.
About The Genting Group
The Genting Group comprises the holding company Genting Berhad, its listed subsidiaries Genting Malaysia Berhad, Genting Plantations Berhad and Genting Singapore PLC, as well as its wholly owned subsidiary Genting Energy Limited. The Group is involved in leisure and hospitality, oil palm plantations, power generation, oil and gas, property development, life sciences and biotechnology activities, with operations spanning across the globe, including in Malaysia (our country of origin), Singapore, Indonesia, India, China, the United States of America, Bahamas and the United Kingdom. In the core leisure and hospitality business, the Genting Group and Genting Hong Kong Limited, an affiliate which is similarly controlled by Tan Sri Lim Kok Thay, market and offer a suite of products under a number of premier brands including Genting, Resorts World, Genting Grand, Genting Club, Crockfords, Maxims, Crystal Cruises, Dream Cruises and Star Cruises. Genting companies also have tie ups with established names such as Universal Studios®, Twentieth Century Fox, Premium Outlets®, Hard Rock Hotel and other renowned international brand partners.
For more information, visit The Genting Group at www.genting.com
Contact
ENGworks
Axel Kruger
949-340-6924
www.engworks.com

Contact