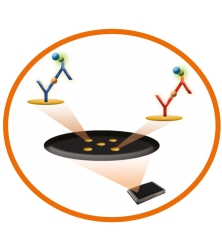 Uppsala, Sweden, October 27, 2017 --(
PR.com
)-- For many years, multiplex assays have been plagued by a lack of specificity and accuracy, with unreliable data as a result. Unreliable data can lead a scientific project in the wrong direction - a detour that could prove to be both costly and time consuming. However, a new multiplex assay has reached the US market. Mercodia, based in Sweden, has teamed-up with Quansys Biosciences, based in the US, to launch the AKURIO Islet Hormones multiplex assay, which measures four of the most notable hormones in pancreatic research: glucagon, insulin, C‑peptide and proinsulin. The assay provides accurate measurements with high specificity – giving well-designed studies a fast track to scientific advances.
The AKURIO Islet Hormones assay is a unique addition to the research community due to its excellent sensitivity, high specificity and easy-to-use format. Due to technical challenges, measuring similar proteins at the same time is difficult. Hanna Ritzén, Managing Director of Research & Development at Mercodia, says that "our hard work has paid off." She stresses the importance of not only having an assay with no cross-reactivity between analytes within the assay but also minimizing cross-reactivity with substances similar to the hormones that should be measured. "Otherwise you will never know what you actually measure," she says.
Mercodia's high-quality immunoassays and Quansys' easy-to-use multiplex technology is a logical combination, with each player bringing unique expertise to the collaboration. "Our work with Quansys has been successful and I am very happy to announce the launch of the AKURIO Islet hormones multiplex assay," says Mercodia's CEO, Mona Österberg. She adds: "AKURIO is a result of our shared company goals; to provide great analytical tools to the research community."
"We are pleased to work with Mercodia in the development and manufacture of the AKURIO kit. The diabetes market is in need of higher quality multiplex solution and we believe this addresses that need," says Matt Groll, General Manager of Quansys Biosciences.
About Quansys Biosciences: Quansys Biosciences is dedicated to the development and manufacture of multiplexed assays for protein quantification. Quansys Biosciences Q-Plex Array Technology aids researchers in better understanding of disease. The Q-Plex Technology includes multiplex and singleplex assays built to maximize the quantity and quality of data from biological samples. To support its multiplex assays, Quansys also provides the Q-View Imager system consisting of: Q-View Software, a user-friendly software package that enables the acquisition and analysis of large amounts of multiplex data, and the Q-View Imager, a high-resolution imaging system used to capture chemiluminescent assays. Quansys Biosciences was founded in 2005.
Read more at www.quansysbio.com
About Mercodia AB: Mercodia is dedicated to advancing innovative therapies for the prevention and treatment of metabolic diseases by providing immunoassay technology for clinical and research applications. We service a global market of over 100 countries with immunoassays spanning nine different species, covering basic, preclinical and clinical research sectors.
Read more at www.mercodia.com