Digitr - A Student Hallway Pass App Developed by a 12-Year Old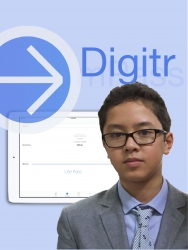 Minneapolis, MN, November 01, 2017 --(
PR.com
)-- New York born, but Minnesota raised eighth grader Omar Elamri may just be the youngest person to have created an app now found in the Apple Store. Digitr, Omar's student hallway pass app, started as a school project for Coders Unite (Omar's student coding program) when he was just 12 years old.
"I knew Omar had the skills [to create the app], I wanted to push him, and I knew if I gave him a challenge, he would rise up," said Ms. Michelle Brunik, Omar's Coders Unite adviser.
He did.
In between classes, school breaks and a summer vacation, he painstakingly spent hundreds of hours coding Digitr and building it from scratch. He learned and applied new coding skills, worked with Apple and the school's technology department to fine tune it, and surveyed teachers and students all before testing the prototype. In January 2017, he launched the app in his school, Minnetonka Middle School East.
The following month, Omar presented the app to the school board and then with Apple representatives. "Not one of our team members was familiar with a middle school student building an app this extensive. There was a lot of excitement around the table," said one of the Apple Midwest representatives. "It was inspirational for us," they added.
Omar's app, which is originally called mPass, is a patented app that has been renamed to Digitr to reflect its wider commercial application to other schools across the country. Digitr is a smart, simple, scalable and easy to use hallway pass designed to provide a better solution to everyday student pass for trips outside the classroom – be it going to the bathroom, locker room and elsewhere within the school. Now, both teachers and students can step back as Digitr manages each hallway pass seamlessly. Recently, Omar has added even more features, such as the ability for teachers and principals to view analytics on the students' activity patterns. He further tweaked the app to be compatible with both Apple and Chrome devices.
Digitr has recently been approved by Apple and is now available on the App store. For demo requests and to see how Digitr works, visit Omar's website at
Digitrapp.com.
Check out Digitr's video
Digitr's e-brochure
Sign up for a free Digitr Hallway pass service
Digitr's Feature Article
Blog about Digitr
Contact
Digitr/mPass
Omar Elamri
612-605-4449
https://www.digitrapp.com

Contact