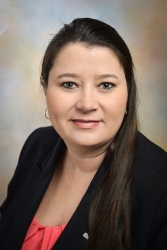 Hamilton, NJ, November 01, 2017 --(
PR.com
)-- Kimberly Vincent has been promoted to Senior Account Manager at New Day Underwriting Managers LLC, a leading specialty intermediary of high-quality environmental and construction-related professional liability insurance coverage. Since joining the company in 2014, Vincent has worked directly with senior New Day staff to provide the company's real estate and construction clients with high-quality environmental casualty and environmental risk management solutions.
"Kim came to us with a track record of successfully serving numerous agencies, brokers, attorneys and consultants for the past 20 years," says John J. Heft, the company's Senior Vice President and Director, Real Estate Practice. "Throughout her time at New Day, she has greatly contributed to our growth, especially within the environmental casualty and pollution sectors. This includes effectively managing an extremely intensive book of business, while continually being praised by insureds and brokers alike for her thorough industry knowledge, responsiveness, and dedication to meeting client needs with the best available strategies."
Prior to New Day, Vincent worked with BCG Advisors, Westrope Insurance Managers, and others to maintain and service each company's large book of business.
A resident of Plant City, FL, Vincent attended the University of Cincinnati. Vincent can be contacted at 609-298-3516 ext. 124 or kimberly.vincent@newdayunderwriting.com.
About New Day Underwriting Managers LLC
New Day Underwriting Managers LLC is a specialty resource for agents and brokers, assisting them and their clients find appropriate, high-quality environmental and construction-related professional liability insurance coverages. The company offers agents and brokers single-point access to an ample portfolio of products and services provided by the nation's largest environmental and professional liability insurance providers. More information about the company is available on their website at www.newdayunderwriting.com.