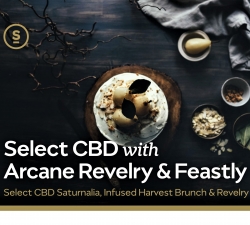 Portland, OR, November 02, 2017 --(
PR.com
)-- Arcane Revelry Partners with Feastly and Select CBD for First CBD Brunch Series and Product Launch
- Arcane Revelry has partnered with dining experience platform, Feastly, and national CBD brand, Select CBD, to host Feastly Portland's first CBD-Infused Brunch Series on Saturday, November 11th from 11am to 2pm in Portland, Oregon.
- At the event, Select CBD will announce and present a brand new hemp-derived, essential oil infused CBD product.
- For a ticket price of $55, guests will indulge in a CBD-infused gourmet brunch with Select CBD, sip on CBD-infused cocktails, learn about the benefits of CBD and receive a brand new product from the Select CBD line.
Arcane Revelry
and dining experience platform,
Feastly
, are hosting a CBD-infused brunch series to celebrate a brand new
Select CBD
product on Saturday, November 11 from 11am to 2pm PT in Portland, Oregon. At Select CBD Saturnalia, Infused Harvest Brunch & Revelry, Select CBD will announce a brand new product in its line of essential oil infused, hemp-derived CBD.
Ages 21+ are invited to attend this Feastly PDX and Select CBD first, featuring CBD-infused haute cuisine prepared by Chef Harol Mendieta and CBD-infused cocktails by Coalition Brewing, Indio Spirits/Rose City Distilling, and Messina Bitters. Arcane Revelry events sell out, and this event will be capped at 40 attendees.
Those who have never experienced a CBD infused meal can expect to be educated by the experts at Arcane Revelry and Select CBD. Arcane Revelry provides guests with a safe and private venue to connect with members of our community, educate and learn from each other, and normalize cannabis and hemp consumption. Select CBD representatives will also be onsite to educate guests on CBD, a compound that interacts with the body's endocannabanoid system, which regulates pain sensation, mood, the immune system, memory and countless other important physical functions.
"A professional, relaxed, creative and fun atmosphere is exactly how we want people to experience our products for the first time, so this partnership with Arcane Revelry represents exceptional brand alignment," said Select CBD Marketing Director Sarah Groom. "It's critical to provide education around cannabis and hemp products in order to reduce stigma around consumption, so we're thrilled to provide that opportunity to our guests."
Because these products are hemp-derived, they contain zero THC, with no psychoactive buzz effect that you would expect from most cannabis. Guests can expect several satiating CBD-infused courses that will be paired with complimentary herb & fruit infused mimosas. Local music will help guests experience the full, relaxing effect of CBD, along with an awesome selection of signature craft cocktails, beer and wine for purchase.
Reserve a spot now for Arcane Revelry and Select Oil's first CBD-infused brunch! Purchase tickets
here
.
Cannabis Culture by Invitation Only.
Arcane Revelry has made its debut in Portland, OR by launching an exclusive cannabis pop-up dinner series. These exciting events bring together community members, entrepreneurs, thought leaders, innovators, and forward thinkers that all share a love of cannabis culture and high-spirited social engagement.
Arcane Revelry experiences combine unique private venues, delicious meals crafted by gourmet chefs, industry sponsors, amazing people, and new friends. Each event features a curation of many great products for our guests to enjoy and sample.
Contact Arcane Revelry for more information:
Crystal Feldman, Founder
eventplannerpdx@gmail.com
https://www.arcanerevelry.com/
Instagram: @arcanerevelry
Diana Eberlein, Agency Partner
STILETTO Mgmt
diana@stilettomgmt.com
Instagram: @stiletto_mgmt
Select Oil, by Cura Cannabis Solutions:
Cura, one of the largest cannabis brands in America, is on a mission to be the leading provider of cannabis in legal U.S. and international markets. Known as the maker of the Select Oil and Select CBD suite of products, and winner of Dope Magazine's 2017 Best Concentrate Company Award, Cura's mission is to provide patients and customers with the cleanest, most flavorful cannabis, with the safest delivery method available. Established in Portland, Oregon in 2015, Cura expanded into California and Nevada in 2017. Learn more about Cura Cannabis Solutions at: www.curacan.com Learn more about Select CBD at: www.selectcbd.com
Contact Cura Cannabis Solutions for more information about Select CBD:
Jordon Rahmil
Cura Cannabis Solutions
jrahmil@curacan.com
www.selectoil.com