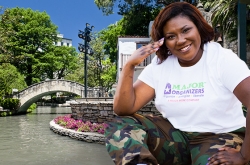 Montgomery, AL, November 02, 2017 --(
PR.com
)-- Marche Johnson brings the Major Organizers® franchise to Montgomery and surrounding areas. Ms. Johnson is a United States Army Veteran born and raised in Montgomery, AL. Marche spent 13 years serving her country in the U.S. Army. She attained the rank of Staff Sergeant in the Army and received her B.S. in Psychology from Troy University. She is a logistical expert. This position requires tedious paper and data management. Johnson's experience leads to her calling as a professional organizer. As a soldier, she moved numerous times and learned the importance of staying organized and prepared for each move.
"I am excited to be a Franchisee of Major Organizers® because as an Army Veteran it gives me a chance to recreate my life thanks to Angela and what she is doing in the Veteran community," said Johnson. "Understanding what busy mothers go through on a day-to-day basis is something I relate to, as it is the life I live. Our families deserve our total attention, and with Major Organizers® we bring order to each household by creating functionality in homes which ultimately liberates families from chaos and stress."
Johnson learned about the franchise opportunity by watching Shark Tank, an ABC broadcast, whereby CEO Angela Cody-Rouget presented the idea to the "Sharks." Johnson saw the impact Major Organizer's brand has had on several households with the expectancy to reach more families. She decided to pursue owning a Major Organizers® franchise business, seeking to control her destiny by liberating one household at a time. "It is an honor to have other veterans and military spouses join forces with me to raise an army of Liberators to restore order to households across America," said CEO Angela Cody-Rouget.
Ms. Johnson is a member of the National Association of Professional Organizers (NAPO). She is excited to be a part of Major Organizers® and looks forward to expanding her team to help achieve our mission of raising up an army of Liberators to restore order to the world, one household at a time!
She is proud to be a Veteran-owned business and will continue to support veterans through volunteering, donating, and offering discounts to veterans; as well as, police officers and firefighters.
To learn more about opportunities in Alabama, please visit:
www.MajorOrganizers.com/Montgomery
About Major Organizers®
Since 2006, Angela Cody-Rouget, AKA "Major Mom" has employed "Liberators" throughout the United States.
Cody-Rouget continues to expand Major Organizers® through franchising to serve the organization's mission of restoring order to the world. Major Organizers®, a veteran-owned company, is building a national brand with operations in Colorado, Arizona, Texas, Ohio, Oklahoma, Florida, Illinois, and now, Montgomery, Alabama. Cody-Rouget declared her goal for the company is to create 500 jobs for women and veterans as well as help military spouses and veterans become business owners.
The Major Organizers® team is comprised of professional organizers who are highly skilled and well trained at de-cluttering and setting up customized, achievable and sustainable systems in various types of households.
Major Organizers® is on a mission to raise up an army of liberators to restore order to the world, one household at a time. "Major Organizers® has a mission to be the most recognized and respected organizing firm nationally and internationally by creating rewarding careers and beautiful yet functional home and office environments for moms and their families," stated Major Organizers® CEO, Angela Cody-Rouget.
The founder and CEO of Major Organizers®, Angela Cody-Rouget, walks her talk. She has two decades of training in order management. She served in the U.S. Air Force for 18 years (10 years active duty, four years in the reserves +4 years in AFROTC) and she embraces and thrives in orderly environments.
In 2018, Major Organizers® plans to open additional locations in Boulder and Ft. Collins, Colorado; Houston and Dallas, Texas; Tampa, FL; Las Vegas, NV, and Atlanta, GA.
Learn more about Major Organizers® at www.MajorOrganizers.com.