Principled Technologies Shows Deploying a Microsoft Windows 10 Image to AMD Processor-Based Business Class Systems Doesn't Disrupt Existing Processes
Principled Technologies (PT) found it took the same number of steps and about the same amount of time to deploy Windows 10 images for AMD and Intel processor-based systems.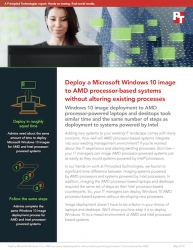 Durham, NC, May 08, 2018 --(
PR.com
)-- Adding new systems to an existing IT landscape comes with many concerns. Organizations don't want to have to worry about the IT experience and altering existing processes. In a recent study, PT found that IT managers can image AMD processor-powered systems just as easily as they would systems powered by Intel processors.
In hands-on testing, PT found no significant time difference between imaging systems powered by AMD processors and systems powered by Intel processors. In addition, imaging the AMD processor-based laptops and desktops required the same set of steps as their Intel processor-based counterparts. According to the report, "With AMD processor-powered systems in your organization, your IT managers will have the same experience deploying a Windows 10 image as they would with Intel processor-powered systems. Choosing AMD systems won't place an additional burden on your IT managers performing this task or force your users to wait longer to use their laptops and desktops after a Windows 10 deployment or update."
To learn more about this management benefit for organizations, read the full report at
http://facts.pt/rxwzop
and see the infographic at
http://facts.pt/jdsly6
. To learn how to image AMD processor-based business class systems, read the how-to guide at
http://facts.pt/6hnl2b
.
About Principled Technologies, Inc.
Principled Technologies, Inc. is the leading provider of technology marketing and learning & development services.
Principled Technologies, Inc. is located in Durham, North Carolina, USA. For more information, please visit PrincipledTechnologies.com.
Contact
Principled Technologies, Inc.
Natasha Simmons
704-712-1115
http://www.principledtechnologies.com/

Contact