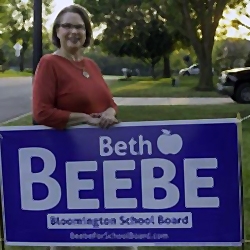 Bloomington, MN, November 06, 2017 --(
PR.com
)-- On Thursday, November 2nd, an intimate group of Beth Beebe for School Board supporters gathered to hear the candidate speak on the needs of Bloomington students as they prepare for entering the workforce and society. Beebe's platform includes promoting the Career and College Academy to reintroduce industrial arts back into the public high schools, emphasizing STEM education, and the highly esteemed Dimensions Academy for gifted and talented students. According to Beebe these are much needed programs that have been neglected, underutilized, or cut from the current school curriculum.
Beebe then introduced Alice Seagren, former State Commissioner of Education who spoke about the needs of low-income and disadvantaged students. Seagren remarked that school boards typically do not fully research the educational proposals that come before them but often implement trendy but unproven educational theories. The former commissioner stated that more work needs to be done to engage the parents and children of low-income families to ensure that they are actively involved in mapping out their child's academic studies.
During the Q & A, the point was raised that the math and reading scores of Bloomington's students was not improving. Candidate Beebe agreed and then explained that the Math curriculum currently in use was recently evaluated alongside with other curriculums used nationally and was found to be least effective according to a study done by John Hopkins University. Beebe also stated that only about 54% of Bloomington 3rd through 8th grade students are at their grade level in reading and math. The audience was appalled at hearing this unsettling news.
Beebe asserted, "We need the Curriculum Committee to evaluate other successful curriculum options and engage the community to help struggling students. We need to give our Elementary Teachers curriculum that helps their students gain solid skills to transfer into higher math. We must find independently-evaluated successful programs like the Math and Reading Corps tutorial program to work 1-on-1 with students to reach grade level by 8th grade. Parents and others in the community must be involved and work with children during and after school."
Beebe and Seagren were given a standing ovation at the conclusion of their remarks.
About the Event
This Meet the Candidate gathering was sponsored by the Friends of Beth Beebe for School Board Committee. It was held at the Taste of Scandinavia, 401 W 98th St, Bloomington, MN 55420, on November 2nd, between 6:00 PM to 8:00 PM.
About the Candidate:
Beth Beebe is a teacher in Bloomington, Minnesota who is running for the Bloomington School Board, District 271. Over her career, Ms. Beebe has held positions as curriculum developer, academic advisor, special needs advocate, and is a leader in community outreach. This is Ms. Beebe's first time running for elected office.