A Practical Discussion About AI and Machine Learning in Healthcare Digital Marketing
Arteric's President Prepares Healthcare Marketers to Transform Digital Disruption Into Competitive Advantage.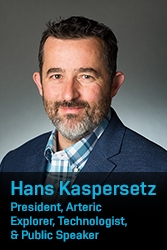 Summit, NJ, November 08, 2017 --(
PR.com
)-- Arteric (http://arteric.com), a healthcare digital marketing agency that fuses exceptional software-development skill with healthcare marketing expertise, announced today that Arteric President and Co-founder Hans Kaspersetz was featured in the presentation, "How Artificial Intelligence Can Dramatically Improve Your Pay Per Click Campaigns." This discussion, published on Life Science Marketing Radio, is part of Arteric's continual effort to educate healthcare marketers on the practical nuances of leading-edge technologies.
Artificial intelligence (AI) is frequently discussed as an essential marketing tool, but a recent survey of 206 organizations suggests that marketers are not familiar with what the technology accomplishes and the practical steps to implement AI effectively [1]. In 2016, only 13% of survey respondents were currently using AI machine-learning algorithms to inform their personalization campaigns. Of the organizations not using machine learning, 32% intend to apply it in the next year, but 24% will not, and 43% are uncertain.
The podcast provides marketers with a detailed, highly understandable explanation about how AI enhances search engine marketing (SEM) and how to effectively integrate AI into their campaigns
.
"Marketing data - pay per click and Search Console data, and transcripts of customer service conversations, to cite a few examples - contain a wealth of insight about what information healthcare professionals and patients require and how they search for it online," states Mr. Kaspersetz. "Unlocking the value in this information has been a manual process, or at best, a semi-automated process, until now. AI dramatically enhances our ability to unlock the value in marketing data."
Chris Conner, founder of Life Science Marketing Radio and a former head of global marketing communication teams adds, "It's always a pleasure having Hans on the podcast. His insights on big data and AI give the audience new ways to think about their marketing efforts that could make a big impact on their business. And it's just plain fun to talk with him."
Mr. Kaspersetz summarizes the importance of the technology. "AI significantly enhances search engine marketing by unlocking insights hidden in huge data sets and is essential across the tactical marketing landscape. Implementing AI is central to a brand's ability to learn what its audiences need and the nature of the discussion around the brand."
For two decades, Arteric has empowered healthcare brands and marketing communication teams to transform dramatic shifts in digital technology into competitive advantage. Contact Hans Kaspersetz at 201.546.9910 to discuss how to apply AI to maximize the impact of your marketing plans.
About Arteric
Arteric is a healthcare digital marketing agency built on a foundation of technology expertise - digital strategy, software engineering, search engine optimization, and search engine marketing. Arteric develops the strategy and software - websites, mobile apps, and Web applications - that drive pharmaceutical and biotechnology digital marketing campaigns and connect the patients, caregivers, and healthcare professionals with information about life-changing therapies, technologies, and devices.
About Life Science Marketing Radio
Life Science Marketing Radio helps life science, biotech, and clinical research service organizations develop content marketing strategies that deliver the results that matter. The Life Science Marketing Radio podcast is sponsored by the Association of Commercial Professionals – Life Sciences, an organization that supports the professional growth and development of sales, marketing and support personnel who work with life science organizations.
Reference:
Research International. 2017 Trends in Personalization. 2017.
Available at http://www.evergage.com/resources/ebooks/trends-in-personalization-survey-report/.
Contact
Arteric
Ross O'Shea
201.546.9910
http://arteric.com

Contact