Ambrogio, the World's Leading Mowing Robot, Comes to the US Market
Popular robotic lawn mower, Ambrogio Robot, reaches the US Market in 2017, after gaining wide acceptance in Europe with over 220,000 Ambrogio robots sold to-date. Ambrogio robot, manufactured by Zucchetti Centro Sistemi in Italy, will be distributed by Paradise Robotics and is sold to consumers through its network of local dealers. Ambrogio is the well-known technology leader in robot mowers, surpassing competitors with its wide range of models, including those for large yards and steep hills.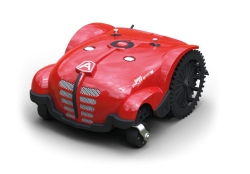 Barrington, IL, November 10, 2017 --(
PR.com
)-- After having gained Europe since 2000, the year of its entry onto the market, Ambrogio, the well-known "Made in Italy" branded lawn mower manufactured by Zucchetti Centro Sistemi (ZCS), a multi-business company leader for the technology and mechatronic fields, reaches the US market.
Thanks to its experience gained in the most demanding European markets with over 220,000 distributed robots, Ambrogio boasts the broadest range of models in the market with its Green and Pro lines, featuring 16 models and already known to US consumers with the "Lawnbott®" brand. Ambrogio's model range enables coverage of the different requests and needs of every yard.
"Ambrogio is the best friend of the garden in Europe because it can improve the turf, give valuable time to its owner and save money in its lifetime," says Paolo Burali, the Business manager of RBD.
The Ambrogio brand will be distributed by
Paradise Robotics
thanks to a large sales network on the US market. They are convinced that even the American consumer will find out how the high-performance robotic technology used in the Ambrogio models can meet both the smallest mowing needs as well as the more complex properties of large size with slopes, several areas to manage and parks of over 7 acres or less.
Ambrogio is characterized by its high degree of innovation, its highly-efficient brushless motors, a blade type that ensures a perfect and uniform cut and the quality of its lithium-ion batteries that allows it to manage the lawn in a quicker way and have a much longer life time than other robots.
Some models are unique in the market: L60 is a small, easily transportable robot that does not need a perimeter wire. The new L250, supplied with a "Connect" module to control and manage the robot anytime and anywhere through the Ambrogio Remote app; L400 Elite is the only robot in the world that can handle over 7 acres without the perimeter wire with high precision, thanks to Differential GPS navigation technology.
Ambrogio's reliability is also guaranteed after-sale by professional technicians trained directly by ZCS.
News, info, novelties and curiosities about Ambrogio are available on our web site
http://www.ambrogiorobot.com
and our official social websites: Facebook, Twitter and Youtube.
Paolo Burali
Sales manager
Robotics division
Lawnbott® is the Registered Trademark of Kyodo America Industries, Ltd.
Contact
Zucchetti Centro Sistemi
Paolo Burali
+39.055.9197.1
http://www.ambrogiorobot.com
Paradise Robotics
Kathy Moseler
(847) 960-8520
info@paradiserobotics.com
http://www.paradiserobotics.com

Contact