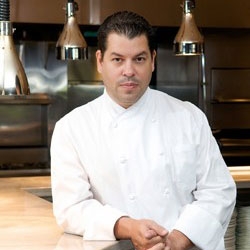 Bernardsville, NJ, November 14, 2017 --(
PR.com
)-- The Bernards Inn proudly announces the addition of Todd Mark Miller as their new Executive Chef. Chef Todd Mark Miller brings forth 20+ years of prolific culinary and industry experience to The Bernards Inn's award winning restaurant and hotel. In his role as Executive Chef, he will spearhead The Inn's culinary team and oversee all aspects of the the Inn's restaurant, catering and kitchen staff.
"We are thrilled to welcome Chef Todd Mark Miller to the Bernards Inn family. His extensive and worldly culinary background working at acclaimed restaurants fulfills our vision of adding a leader who will enhance and grow our award-winning restaurant and private event programs," said Josh Barbee, General Manager of the Bernards Inn. "We look forward to ushering in the next chapter of The Bernards Inn's storied tradition of culinary excellence."
Although he has held both international and domestic positions, Miller's simple yet creative approach to the craft of cooking matches perfectly with the seasonal inspired concept held by the Inn. "My philosophy is keep it simple and the flavors deep," stated Miller when asked about his style of cooking. "I get very excited about the opportunity to be working from our own garden and serving the freshest possible produce to our guests."
Miller anticipates changing the menu six to eight times a year to take advantage of the most flavorful ingredients. The first menu, constructed with Miller's input, has already been released - a seasonal "autumn centric" menu, capturing the most popular flavors of the season. "Being a chef is easy when you truly love what you do," said Miller. "I am very excited to add to what is already a culinary tradition of excellence here at the Bernards Inn."
About The Bernards Inn
Established in 1907, The Bernards Inn is a luxury boutique hotel with a prestigious restaurant and acclaimed piano bar nestled in the small town of Bernardsville, NJ. In addition to their hotel and dining facilities, which has earned them Triple A's "Four Diamond Award," the Inn has an award winning wine collection and holds renowned title of The World of Fine Wine's "World's Best Wine Lists 2017." The Inn offers multiple intimate yet elegant venue spaces, perfect for weddings, celebrations and corporate retreats, meetings and parties. For more information about the Bernards Inn, call 908.766.0002 or visit www.bernardsinn.com.