Unique Makeup Artist Event at Creature Features in Burbank on November 19
On Sunday, November 19, Taylor White's Creature Features Store in Burbank, California from 1pm to 4pm Will Host a Special Presentation About Careers in Movie Makeup Artistry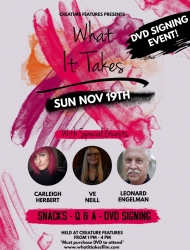 Los Angeles, CA, November 17, 2017 --(
PR.com
)-- Scott Essman of Visionary Cinema will be moderating a carefully selected expert panel. Makeup artist/filmmaker Amber C Talarico will be discussing her documentary "What It Takes: A Film About Makeup Artists" with notable interviewees from the film: Makeup Branch Governor from The Academy of Motion Picture Arts and Sciences, Leonard Engelman; three-time Oscar Award-winner Ve Neill; Emmy nominee for American Horror Story, Carleigh Herbert.
The informative panel will cover such topics as breaking into makeup arts, finding a support system while building one's portfolio, working on non-union low-budget films to initiate a career, best practices as one ascends in the industry, and how to handle notoriety and increasing salaries while fostering critical relationships with other artists, filmmakers, and studios.
The panel will also discuss the popular makeup-oriented SyFy Channel TV shows Face-Off and Game Face.
After the discussion, all participants will be signing copies of the What it Takes DVD.
For more information, link to www.whatittakesfilm.com
Contact
Visionary Cinema
Scott Essman
626-963-0635
www.visionarycinema.com

Contact