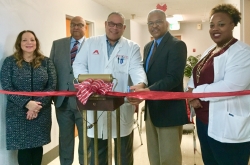 Holly Springs, MS, November 23, 2017 --(
PR.com
)-- Alliance HealthCare Hospice and Palliative Care celebrated the opening of its new home-based and inpatient center with a ribbon cutting and open house on Tuesday, November 21, 2017. The hospice center is located inside Alliance Hospital at 1430 Highway 4 East, Holly Springs, Mississippi. Staff and dignitaries, including Mayor Kelvin Buck, were on hand to help with the festivities and tour the new facility.
Marketia Morrow, Chief Nursing Officer for Alliance HealthCare System, will direct the clinical operations and manage the hospice center. A team of experienced healthcare professionals, which includes physicians, nurses, certified nursing assistants, social workers, chaplains, and volunteers are on hand to assist patients with symptom management and any psycho-social needs that may occur.
"Hospice is important to our community because we are able to take care of patients as well as their families with our variety of inpatient and outpatient services," said Dr. Kenneth Williams, Hospice Medical Director and President of Alliance HealthCare System.
Alliance Hospice and Palliative Care provides a warm and calm environment, as well as physical, emotional, and spiritual support for hospice patients and their families. The hospice center is open from 8:00 a.m. to 5:00 p.m., Monday through Friday. Hospice care is typically provided in the comfort of the patient's home. However, on occasion, when pain or symptoms cannot be adequately managed in the home setting, the patient may benefit from a short-term stay at Alliance Hospice where the focus is on the patients, family, and their individual needs.
About Alliance Hospice and Palliative Care
Alliance Hospice and Palliative Care is a 24-hour inpatient and home-based service focused on providing physical, emotional, and spiritual support. We specialize in compassionate care that is uniquely individualized for each patient. Alliance Hospice and Palliative Care is committed to ensuring that patients live each day fully and provide exceptional care and support for families. Our inpatient hospice care is for terminally ill patients who desire continuous medical care.