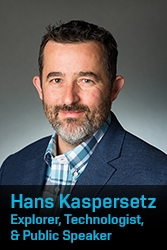 Summit, NJ, November 27, 2017 --(
PR.com
)-- Arteric is a healthcare digital marketing agency that continually shares its knowledge with the healthcare marketing community. That effort continues at the second annual MedDev eMarketing Summit in Philadelphia on November 29. Hans Kaspersetz, Arteric's Chief Strategist and Technologist, will present a seminar titled "Artificial Intelligence - Super Hearing for Healthcare Marketers. Making AI and Machine Learning Practical" to more than 120 biopharma and medical device marketing leaders.
Artificial Intelligence (AI) is a dominant topic in business discussions across industries. AI-driven applications play an essential role in 5 of the top 10 strategic predictions for 2018 and beyond in a report that was recently published by Gartner.[1] At the same time, survey results suggest that many marketers feel ambivalent about the effectiveness and practicality of AI.[2] Marketers require practical guidance based on experience to help them make wise choices about whether to apply AI, and if so, how.
Mr. Kaspersetz's presentation will share two practical case studies that illustrate how AI and machine learning are being applied today in pharma and biotech marketing. At the MedDev eMarketing Summit, Mr. Kaspersetz will explain the practical steps and strategic insight that produced Arteric's AI solution and guided its implementation in two branded marketing campaigns.
"Healthcare professionals increasingly rely on voice-driven online search to obtain essential medical information," states Mr. Kaspersetz. "Voice search significantly increases the volume of marketing data and the complexity of the research that search analysts must evaluate to develop effective digital campaigns. AI provides the scalability and flexibility to meet these challenges. AI generates data in minutes that previously required 80 person-hours to produce. This dramatic increase in speed makes it feasible for search analysts to experiment aggressively and uncover hidden marketing insights."
Mark Coulter, co-founder and chief executive officer of Curtis & Coulter, the conference's organizer, considers AI an important part of the meeting. "We are delighted to have Hans join at this month's East Coast MedDev Summit. AI and its potential impact on healthcare are a very important topic for this year's program, and Arteric's expertise in this area will give our senior medical device marketing audience some much-needed clarity in this area."
"Real-world development and testing is how Arteric determines the viability of any technology for pharmaceutical and biotechnology marketers," states Mr. Kaspersetz. "Creating an AI solution and evaluating its performance in the marketplace enabled us to define capabilities, limitations, and the elements of a successful implementation. This experience identified challenges and shortcomings as well as the enormous opportunity that healthcare marketers must consider when evaluating AI as a marketing tool. I'll share these insights throughout my presentation."
Those who can't attend the conference but want to learn about AI for healthcare marketers can
read about Arteric's work with AI and listen to Mr. Kaspersetz on Life Science Marketing Radio
.
For two decades, Arteric has empowered healthcare brands and marketing communication teams to anticipate and execute on dramatic shifts in digital technology, transforming them into competitive advantage. Contact Hans Kaspersetz at 201.546.9910 to discuss how to apply AI to maximize the impact of your brand.
About Arteric
Arteric is a healthcare digital marketing agency built on a foundation of technology expertise - digital strategy, software engineering, search engine optimization, and search engine marketing. Arteric develops the strategy and the software - websites, mobile apps, and Web applications - that drive pharmaceutical and biotechnology digital marketing campaigns and connect the public and healthcare professionals with information about life-changing therapies, technologies, and devices.
References
1. Panetta K. Gartner Top Strategic Predictions for 2018 and Beyond. 2017. https://www.gartner.com/smarterwithgartner/gartner-top-strategic-predictions-for-2018-and-beyond/.
2. Research International. 2017 Trends in Personalization. 2017. http://www.evergage.com/wp-content/uploads/2016/06/2016-Trends-in-Personalization-Survey-Report-Evergage-final.pdf.