MemoryWeb Revamps Memory Stamp Feature That Lets Families and Genealogists Tie Details to Photos, Forever
MemoryWeb, a company founded on the concept that back-of-the-photo information should travel with photos wherever they go, enhances and redesigns it's memory stamp feature in response to user feedback.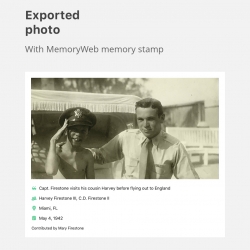 Chicago, IL, November 28, 2017 --(
PR.com
)-- MemoryWeb today announced a revamped version of its memory stamp feature that changed both the format of the stamp and expanded the information it can mark. This popular feature lets users share photos with "who, what, when, where and why" details permanently imprinted as part of the picture. Users can share photos without any details as well.
Prior to this release, MemoryWeb's memory stamp feature placed the user's chosen details directly on the actual photo when it was shared from the app. While the original memory stamp format was very well received, users gave feedback that they would prefer the tag details to be separate from the actual photo but still a permanent part of the image. Users also expressed a wish to be able to use the memory stamp to clearly mark ownership on photos, especially when they are shared in a public setting such as a collaborative family tree.
In response to this input, MemoryWeb revamped their memory stamp feature in two key ways. First, the company added a field in the memory stamp options that allows the user to cite who contributed a photo. This is a key add for genealogists looking to ways to better protect their digital assets.
Second, MemoryWeb placed all memory stamp information below the photo and used smart icons to easily distinguish what type of detail was included.
In the new format, users chose what, if any, details they would like to share from this list:
- Caption
- People
- Location
- Album
- Date
- Contributor (new)
MemoryWeb's founders created the memory stamp to solve one of the biggest problems faced by people sharing photos today – the disconnection of details.
"The ability to share photos with details permanently connected is especially important to genealogists," says Christopher Desmond, one of MemoryWeb's three founders. "These family historians spend countless hours researching the stories of their ancestors and are clamoring for a way to easily share their findings with the context intact and with photo ownership clearly documented."
Even though the company takes the unusual step of allowing users to export photos with all their tags embedded within the file metadata, the founders realized that the details can come "unglued" when the image is uploaded/shared with platforms such as Facebook. More often than not, social media and other sharing platforms will strip out the embedded tags or will override them with incorrect info such as today's date and location.
This blog post
contains a detailed example how photo information can be compromised.
"MemoryWeb's memory stamp solves that problem by creating a way to permanently attach back-of-the-photo details, regardless of where the photo is uploaded, shared, printed, etc.," states Desmond.
MemoryWeb's memory stamp feature is just one of several ways tag details can travel on and/or within a user's photos. The company describes the ability to permanently tie details to photos forever, a process they refer to as creating File DNA,
in this passage
from their website.
About MemoryWeb
MemoryWeb was founded by three Chicago-based entrepreneurs with a track record of start-up success who believe that back-of-the-photo information should travel with photos wherever they go. ​Currently available for iOS devices, MemoryWeb brings generations of photos from a broad range of sources in one organized place, creates interactive connections between them and preserves "back-of-the-photo" details forever.
Because MemoryWeb imports copies of photos directly from places such as Facebook, Instagram, Dropbox, Flickr, Photos Camera Roll, Mac/Windows computers and FamilySearch, the company is able to preserve more of the correct information tags during the import process.
Contact
MemoryWeb
Nancy Desmond
312.420.5213
www.memoryweb.me

Contact