Kennsington Capital Group to Host Wealth Building & Empowerment Seminars
The Solution to Your #1 New Year's Resolution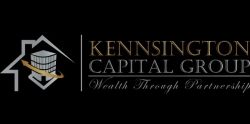 New York, NY, November 28, 2017 --(
PR.com
)-- Kennsington Capital Group will launch its 2018 wealth-building series in December by hosting a joint holiday mixer and financial empowerment panel in New York City, Newark, New Jersey and Pittsburgh, Pennsylvania.
"I could have bought a place in Dumbo before it was like Dumbo for like 2 million. That same building today is worth 25 million. Guess how I'm feeling? Dumbo." - Jay Z, The Story of O.J.
In his song, the Story of O.J., world renown rapper Jay Z breaks down why financial freedom was his only hope of survival. Case in point: What opened the door to the Trump presidency? His education? No. Military service? Negative. His community service? Not even close. Real estate? Now, you're getting hot. Our very own President is proof that real estate investment is the key to generational wealth.
Kennsington Capital Group, a savvy and seasoned team of real estate developers, are set to share this message of hope to the masses in 2018 by hosting a series of financial empowerment seminars monthly in the tristate area. Their goal? To teach you how to build a better future by investing in real estate. The seminars will be helmed by financial thought leader, Eyan Edwards, Kennsington Capital Group's Vice President of Client Development, who will be co-hosting each event, and sharing free of charge, strategies on accessing wealth through "the art flipping houses."
Edwards insists that no prior knowledge or real estate experience will be needed for you to take part in these events. Due to the numerous years of expertise in their field, the Kennsington team comes equipped to instruct you on how to obtain financial freedom by directing you to the best income producing properties. "We will teach you how the rich make millions using other people's money to finance their own ventures," states Edwards. Kennsington Capital Group will be launching their 2018 financial series this holiday season in three cities: New York City, Newark and Pittsburgh, by hosting a holiday mixer and panel in each city.
Are you fatigued or mentally discouraged from the financial struggles of 2017? Then perhaps, 2018 is your time to create new opportunities, new goals, and foster a new vision for a better tomorrow. Kennsington Capital Group believes that they have the tools you need to help bring your #1 New Year's resolution to fruition.
"What's better than one billionaire. Two. Especially if they're from the same hue as you." - Jay Z, The Story of O.J.
Kennsington Capital Group Holiday Launch Events Dates, Times and Address:
Website:
kennsington.co
Wednesday, December 13th - Newark, NJ Rutgers University – Newark
Paul Robeson Center
Dance Theater
350 Martin Luther King Jr. Blvd.
Newark, NJ 07102
https://www.eventbrite.com/e/real-estate-and-wealth-building-holiday-mixer-and-panel-with-eyan-edwards-tickets-40209269006
Monday, December 18th - NYC
WeWork - Soho West
175 Varick Street
New York, NY 10014
https://www.eventbrite.com/e/real-estate-and-wealth-building-holiday-mixer-and-panel-with-eyan-edwards-tickets-40225291931
Tuesday, December 19th - Pittsburgh
Spaces - Bakery Square
Second Floor
6425 Living Place
Pittsburgh, PA 15206
https://www.eventbrite.com/e/real-estate-and-wealth-building-holiday-mixer-and-panel-with-eyan-edwards-tickets-40229177553
Contact
Kennsington Capital Group
Talisha Lewis
973-799-8552
kennsington.co
Phone 917-702-9119

Contact