L Taco Mexican Cafe Grand Opening
Grand Opening Event; Nacogdoches Rd Location; 4:00 - 6:00PM; Live Music, Free tacos, Salsas, Kids inflatables, and many more amenities.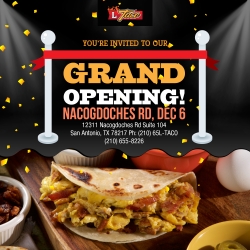 San Antonio, TX, December 05, 2017 --(
PR.com
)-- L-Taco Mexican Cafe will present a Grand Opening event, taking place at 12311 Nacogdoches Rd. on Dec. 6th, 2017, 4:00 PM to 6:00PM and featuring San Antonio Chamber of Commerce board, directors, special guests, associate ambassadors and many more.
L-Taco is proud to bring its Grand Opening to their 3rd location for San Antonio community. L-Taco is bringing 100% authentic Mexican food to those who love genuine taste of Mexico.
Event details: Start 4:00PM, ends 6:00PM. Words from President of the Chain Mr Enrique Resendez, ribbon cutting and degustation of sample food and drinks.
They are having free food, live music, kids games and entertainment. Family friendly.
For more information about this new Location, call (210) 65L-TACO, or (210) 655-8226. You can also follow all L-Taco social media:
facebook.com/eat.l.taco.nacogdoches
twitter.com/eat_l_taco
instagram.com/eat.l.taco
About L-Taco: We are a group of Mexican friends that have always been dreaming about creating a true genuine Mexican food restaurant. One that features Mexico's best recipes, tortillas and salsas. We are launching our 3rd location of this small chain.
Contact
L Taco
Mauricio Alanis
210-655-4226
www.l-taco.com

Contact
Multimedia
L-Taco Mexican Cafe will present a Grand Opening event, taking place at 12311 Nacogdoches Rd. on Dec 6th, 2017, 4:00 PM to 6:00PM