Smoke More Tour is Everything Right with Hip Hop
Smoke More Tour is a tour that originated in New York City and goes from city to city highlighting hip hop friendly venues along the way. Entertaining dwellers with live DJ, live performances, and featuring the newest tech and fashion - Smoke More Tour is a steamers paradise.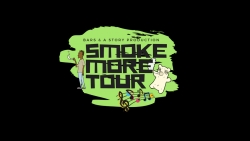 Jamaica, NY, December 04, 2017 --(
PR.com
)-- Smoke More Tour begins, success in Long Island, Bronx
Newly produced, Smoke More Tour sparked up on December 1, 2017 in Island Park, Long Island at High Seas Galley and wrapped up The Bronx's location at DaMatrix Studios over the weekend. The lowly publicized, but highly anticipated event brought it all from oozing rocks to Maseratis.
"Smoke more?" is what you can hear being said amongst many of the tour attendees. The tour headlines international DJ Tanboy Ace of Tanboys. With each new venue comes a new hip hop aesthetic important to the culture. This aesthetic is captured though the lens of Buda, better known as @thebiggertpicturebuda who also doubles a music producer. Bars And A Story Productions is a collective including the aforementioned and the producer known as Him Again. Him Again is a project manager and hosts his own radio show in New York City.
Smoke More Tour has earned credibility in less than a few ways. Recently Hot 97's Hip Hop Mike had a social media moment regarding the tour and mentioned how impressive the tour and concept is. The tour is also hosted by radio dj DJ Gully of Radio 103.9, he shares the airwaves with other New York radio personality heavy hitters on the station to include DL Hughley, Mister Cee. The tour will also have hosting appearances by iheartmedia's and "Ballin For Peace" curator H2O and music industry influencer, Mass Appeal's joe Lindo (ayequelindo).
Smoke More Tour features hand-picked artist to headline the tour. The tour features talent to include Kash Juliano,
MiLLitant
, Poiison, Xandersreality, Sulesmusic, and Rich P. Each artist brings their own style to the table with a wide range of fan bases included. Also featured is upcoming dj, DJ Marco who is currently a DJ for his Big East university in Queens.
Smoke More Tour's purpose is to highlight hip hop friendly venues across the nation while promoting unity through the culture. The tour has opened the doors for educating attendees on the positive uses of cannabis and spotlighting ways government is attempting to implement positive legislation to treat many of the chronic pain that aggravates many Americans today.
The tour will end on December 19, 2017 in Queens at Signature Soundz Studios. The next show is on December 8, 2017 at 5 pm in Albany. Smoke More Tour will hit 16 Barz located at 59 Central Avenue Albany, NY.
For more information call 718-568-0803 or email smokemoretour@gmail.com.
Smoke More Tour
New York, NY
www.smokemoretour.splashthat.com
(P): 718-568-0803
(E): smokemoretour@gmail.com
Contact
Smoke More Tour
Tim Davis T
347-755-3337
smokemoretour.splashthat.com

Contact