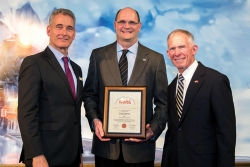 Glendale, CA, December 11, 2017 --(
PR.com
)-- Sterling Management's CEO, Kevin Wilson, attended a special banquet this past week where his company was honored by Lt. General Pete Osman, USMC (ret.), the President and CEO of the USMC Toys for Tots Literacy Program, with a special recognition for their support of this program.
In this photo, he is presented with the "Commander's Award" for their contribution. Left to right:
President, Galaxy Press, John Goodwin
CEO Sterling Management, Kevin Wilson
Lt. General Pete Osman, USMC (ret.)
Sterling Management has provided over 500 books to the Toys for Tots program which will be combined with toys to ensure that over 500 less fortunate children in their community—many for whom this will be the only book in their house—will be able to enjoy Christmas this year. Based on information provided by General Osman, a simple gesture of a gift over the holiday season is sometimes all it takes to keep a child from breaking away from society.
Sterling Management is a long-term and steadfast supporter of literacy programs, including the local Boys & Girls Clubs and local schools' reading programs, as well as their local libraries.
CEO Kevin stated, "I have been watching the literacy levels decline for too long. I've decided to start doing something about this, and something effective. Through the Toys for Tots Literacy Program, we've been able to make a difference. We've made sure that the less fortunate families in our community and beyond have access to good reading materials that help the teens to improve their skills and knowledge."