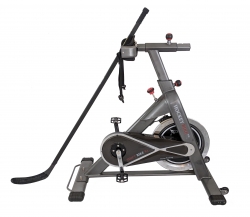 South Bend, IN, December 11, 2017 --(
PR.com
)--
Hockey Bike, LLC
is dedicated to helping hockey players improve their performance. Most hockey players agree the best way to get better at hockey is to play more hockey. Unfortunately, ice time is expensive and the limited number of rinks per area are shared by players of all ages and skill levels.
The demand from players to find innovative ways to train off the ice led to the creation of the ShiftBike X3. This patent pending product was designed to help players increase speed, strength, stamina, core coordination, and stickhandling skills.
The unique design allows players to ride in a standing position which increases the demands on the legs compared to a traditional exercise bike. The average NHL hockey player is on the ice for 45 seconds before going to the bench for a line change and a rest. The average ride on the ShiftBike X3™ is 45 seconds replicating a high intensity shift on the ice making it the perfect tool for interval training.
The open front concept and secure waste harness gives players the ability to lean their upper body forward over their midsection in a natural skating position. Players can stickhandle in a full radius transitioning to and from their forehand and backhand as if they're on the ice. They can also practice toe drags, dangles, passing, and shooting.
Hockey Bike's products are intended for players of all skill levels including professional, collegiate, juniors, club, high school, youth, and recreational. The ShiftBike X3 is available at
www.hockeybike.com
as well as through select partners. For questions you can email info@hockeybike.com or call the corporate office at 1-833-HOCKEY3.