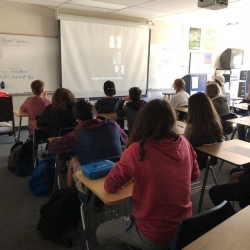 Sacramento, CA, December 23, 2017 --(
PR.com
)-- Funding from Sate Farm has made it possible for Safety Center to return to Oakridge High School for its fourth year presenting to the entire 10th grade the lifesaving information of the Alive at 25 program. With continued funding the Safety Center has established its presence at Oakridge, presenting in the fall and returning in the spring to ensure no student is left out.
Changing behavior is needed when it comes to distracted driving, however the Alive at 25 program tackles much more than just distracted driving. Alive at 25 changes attitudes that cause risky driving behavior and teens walk away with strategies for making safe driving choices as a driver and as a passenger. At Oakridge, the majority of students participating have not yet begun to drive allowing them to develop defensive driving skills before they embark on their driving career.
Since 2014, State Farm has supported the Safety Center in delivering 60 presentations to 1,841 students in Oakridge High's Health classes. Kim Hassian the coordinating Health Teacher continues to support the partnership that has developed ensuring the safety of her students. During the fall of 2017, 268 students out of 278 said that after participating in the Alive at 25 presentation's they would speak up when in a dangerous situation in vehicles. Overall since 2013, State Farm has allowed the Safety Center to deliver 167 Alive at 25 classes to 4,708 students empowering them to make safe driving commitments for their future.
For more information about the Alive at 25 program in schools contact Christine Davidson at 916-438-3385 or email at christine@safetycenter.org
About Safety Center:
Safety Center Incorporated is a 501(c)(3) not-for-profit organization founded in 1934 whose mission is to reduce injuries and save lives by empowering our community to make positive life changing decisions. For more information, visit www.safetycenter.org.
About State Farm®
The mission of State Farm is to help people manage the risks of everyday life, recover from the unexpected, and realize their dreams. State Farm and its affiliates are the largest providers of auto, home and individual life insurance in the United States. Its 18,000 agents and more than 65,000 employees serve more than 83 million policies and accounts – nearly 81 million auto, home, life, health and commercial policies, and nearly 2 million bank accounts. Commercial auto insurance, along with coverage for renters, business owners, boats and motorcycles, is available. State Farm Mutual Automobile Insurance Company is the parent of the State Farm family of companies. State Farm is ranked No. 35 on the 2016 Fortune 500 list of largest companies. For more information, please visit http://www.statefarm.com
Contact Information:
Safety Center
Christine Davidson CSMS
Outreach Coordinator/Instructor II
916-438-3385
Christine@safetycenter.org
www.safetycenter.org
800-825-7262