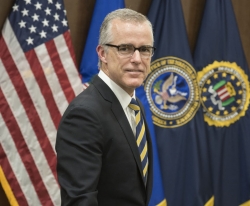 McLean, VA, January 03, 2018 --(
PR.com
)-- Mike Michener, a former political appointee at the U.S. Department of Agriculture, announced today that he is encouraging Ashburn resident Andrew McCabe to get in the race against GOP Representative Barbara Comstock. McCabe currently serves as Deputy Director of the FBI and reports indicate that he plans to retire in March 2018, just a few weeks before the filing deadline for the June 12 primary. As the Hatch Act prevents McCabe from launching a partisan campaign prior to his retirement, Michener is taking the first step as an unconnected third party.
"The scurrilous attacks on Mr. McCabe and the brave men and women of the FBI by President Trump and his allies in Congress are shameful and a threat to our democratic institutions," Michener said. "Through her deafening silence in response to these attacks, Representative Comstock is consenting to her party's efforts to undermine of the rule of law as she and her colleagues seek to protect the President from the Russia investigation. Comstock deserves to be challenged by someone who will make our national security and the integrity of our elections a top priority – I believe Andrew McCabe is the best candidate to draw national attention to this race."
Michener wants fellow Democrats to pledge their support to encourage McCabe to get in the race. "I have launched a draft campaign on a political crowdfunding website, CrowdPAC, where anyone can make an endorsement or pledge a donation in the event McCabe does declare his candidacy," said Michener. Supporters can go to CrowdPAC.com and pledge a donation – but they will only be charged in the event McCabe decides to run.