Kyrylo Shevchenko: "Green-Banking is a Financial Means of Saving Human Lives"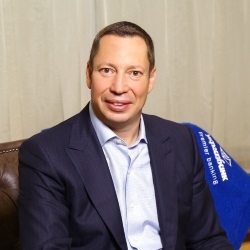 Kyiv, Ukraine, January 10, 2018 --(
PR.com
)-- Ukraine requires resolute actions in the area of environmental enhancement and Ukrgasbank is prepared for their realization.
According to the company's press service, such was the statement made by Kyrylo Shevchenko, the CEO at UKRGASBANK, during the international banking forum CIS Bankers 2017.
Kyrylo Shevchenko said, "The country is undergoing the process of active reformation, and the banking sector is changing along with it. I am convinced that we should change the attitude towards the model of green-banking. We should send a message to the general public that just like the medical reform, this is primarily a real means of saving human lives which comes in the form of the modern financial instrument. There is no need to be afraid to use it. According to the statistics, Ukraine is the world's leader in terms of mortality from the polluted air per 100 thousand people. Factories and old vehicles are the major sources of pollution. At the same time, Ukraine has an enormous potential for expanding capacities of the object of renewable energy. The Statistical Service of the European Union (Eurostat) reckons that Ukraine has the potential to get no less than 74% of the overall energy produced in the country from the renewable sources while the current level of such production amount to around 1.2%."
Over the course of the forum, Mr. Shevchenko also spoke of the immediacy of the issues of climate investment and the need for global efforts in overcoming negative consequences of climate change, about the necessity of financing environmental projects, the role of green banks, and realization of projects that deal with renewable energy and energy efficiency.
Green banks are created to resolve the problem of insufficiency of investments in the fight against global issues that humanity is facing. In 2015, an international organization called The Green Bank Network (GBN) was created in Paris with the purpose of establishing cooperation and exchanging knowledge and experience between the existing green banks.
Kyrylo Shevchenko stated, "It currently unites around ten financial institutions and funds; it is also open to the admittance of new participants and Ukrgasbank could become one of them."
He also shared information about the important achievements of UKRGASBANK in funding ecological projects.
"We have around 50 large-scale projects with a total capacity of 290 MW in all parts of Ukraine. Thanks to these projects, we managed to achieve the reduction of CO2 emissions by 588 thousand tons per year. It can be compared to the reduction that could have occurred if we took 275 thousand vehicles off Ukrainian roads at once. These projects provided gas savings in the amount of 281 million m3/year. It is just the beginning. Right now, we have under our consideration 40 projects that are worth 261 million euros."
Contact
Ukrgasbank
Roman Osadchy
+3800800309000
www.ukrgasbank.com/en/

Contact