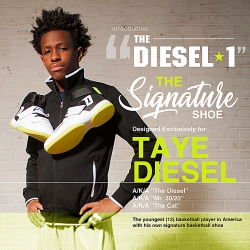 Philadelphia, PA, January 06, 2018 --(
PR.com
)-- The Warmups sportsgear brand has been known within the AAU (Amateur Athletic Union) basketball community throughout parts of the Mid-Atlantic area for a few years now; mostly for its popular "Got Game" t-shirts.
When the brand's management team decided to experiment with a basketball sneaker, it focused its attention on the playing style of 13-year old AAU basketball player Taye "Diesel" Edwards after seeing one of his games in which he scored 34 points and pulled down 20 rebounds. His aggressive style of play, high leaping ability, and speed led the Warmups team to design a shoe that could withstand the play of players with those qualities.
The design team (led by Water Creative, an entity of The Water Group, LLC) consulted with Taye about styling and fit; the result is the black & white model of the shoe called "The Highlight" (owing in part to the green-yellow color of the out-sole which reminds us of a highlight marker).
The shoe and other new Warmups designs will be available in 2Q2018 at the website WarmUpsGear.com.