Crawford County CVB Named American Marketing Association Pittsburgh Chapter Grand Marketer of the Year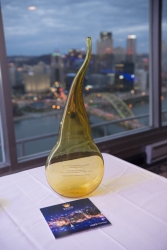 Meadville, PA, January 06, 2018 --(
PR.com
)-- The Crawford County Convention & Visitors Bureau was named Grand Marketer of the Year by the American Marketing Association's Pittsburgh Chapter during its 11th annual Marketer of the Year Awards event. The coveted award recognizes results-based marketing campaigns in Western Pennsylvania from both brands and advertising agencies for their excellence and success.
Along with its agency partner, Beyond Spots & Dots, the Crawford County Convention & Visitors Bureau launched a targeted, digital marketing campaign which included search engine marketing and social media marketing. The campaign led to increasing website traffic by 75 percent and selling out all tickets for the Oil Creek and Titusville Fall Train Rides for the first time. Additionally, the campaign led to the doubling of Crawford County hotel room tax revenues.
"We are honored and proud to be recognized with this American Marketing Association award," said Crawford County CVB Executive Director, Juanita Hampton. "This award would not have been possible without the tremendous efforts of all those involved. It's our goal to spread the word of our county's events, attractions, activities and recreation areas, and our advertising and marketing efforts have been a key contributor in boosting the tourism industry in Crawford County."
The Crawford County Convention & Visitors Bureau was also recognized as the award winner for the "Sports, Entertainment or Travel Marketing" category. For more information regarding the Crawford County Convention & Visitors Bureau, please visit us online at VisitCrawford.org
About the American Marketing Association
The American Marketing Association (AMA) is the essential community for marketers in Pittsburgh. No other organization provides more ways for marketers and academics to connect with the people and resources they need to be successful. AMA's mission is to be the most relevant force and voice shaping marketing around the world, and as one of the oldest chapters in the United States, Pittsburgh is the resource for professionals looking to join together with like-minded marketers in our region.
About Crawford County Convention & Visitors Bureau
Crawford County, situated in northwest Pennsylvania, was founded in 1800. Named for Colonel William Crawford - a soldier, surveyor, farmer, and life-long friend of George Washington - Crawford County reflects the rich rural traditions of its diverse settlers and first inhabitants. Visitors and residents alike enjoy the quality of life that Crawford County has year-round.
Crawford County's geological history and landscapes are unique in its variety and create vast outdoor recreation areas as well as rich historical attractions. Some of the best hunting and fishing can be found in Crawford County. Features and attractions popular with visitors include eight lakes (two of which are the largest glacial lakes in Pennsylvania), French Creek (one of the world's most biologically diverse streams and named by George Washington), Pymatuning State Park, Erie National Wildlife Refuge, Oil Creek and Titusville Railroad and Conneaut Lake Park.
Scenic land and water Trails on Route 6 and the PA Crawford Lakelands Scenic Byway include popular tourist Trails for maple syrup, microbreweries, wineries, distilleries and mead. With a focus on agriculture, Crawford County is home to the Crawford County Fair, the largest agriculture fair in PA.
Note to editors: For more information, news and perspectives from the Crawford County Convention & Visitors Bureau, journalists and analysts may call 814.333.1258. Web links, telephone numbers and titles were correct at time of publication, but may have changed.
Contact
Crawford County CVB
Juanita Hampton
814-333-1258
www.visitcrawford.org/

Contact