PLB Sports, Leader in Athlete-Endorsed Food Products, Launches Brand-New WWE Fruit Snacks Featuring Top Names in Wrestling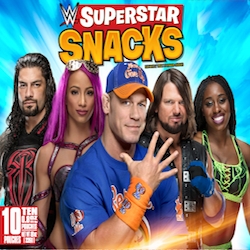 Pittsburgh, PA, January 11, 2018 --(
PR.com
)--
PLB Sports
, the premier food marketing company specializing in matching professional athletes with superior product lines, announced the launch of their brand new WWE Fruit Snacks. Joining a realm of other unique food products representing professional sports like WWE, hockey, baseball, and more, WWE Fruit Snacks are sure to be a fan-favorite.
The first of its kind, WWE Fruit Snacks come in six delicious flavors including cherry, strawberry, orange, blue raspberry, apple, and grape. Each snack is molded into a custom "W" shape to mirror the WWE logo. Featuring some of the top names in professional wrestling including John Cena, Roman Reigns, A.J. Styles, Sasha Banks, and Naomi, the packaging is as appealing as the snacks. In addition, each box is etched with an official WWE hologram, making it the perfect gift for memorabilia collectors.
"You've got to try these fruit snacks. Ten pouches of deliciousness. My new favorite snack!" commends Linda P, longtime fan of PLB Sports products. With great flavors that all ages will like, it's no doubt these will become a crowd favorite in no time.
The launch of the brand new WWE Fruit Snacks will undoubtedly appeal to sports fanatics, especially those following WWE Raw. And, for people buying gifts, PLB Sports' latest venture is sure to reach the niche market of those looking for WWE stuff for sale.
WWW Fruit Snacks are made with real fruit juice, naturally fat free, and contain no preservatives. Each snack box comes with 10 fruit-filled snack pouches. Customers agree that snacks are flavorful and delicious, giving you the best snack foods and WWE gifts, combined.
The perfect blend of sports memorabilia and tasty food treats, WWE Fruit Snacks is certain to be a top-seller. To learn more and purchase your own, visit us at our
WWE Superstar Fruit Snacks
product page.
About PLB Sports
PLB Sports opened its doors in 1995 by CEO, Ty Ballou. They are most renowned for the development and launch of "Flutie Flakes," matched with Doug Flutie and the Doug Flutie Foundation for Autism. The first business of its kind, PLB Sports prides itself in producing only the best food products, partnered with the top names in sports. From marketing to product development, retail sales, and beyond, PLB Sports manages every aspect of the business to ensure quality and brand standards remain exemplary.
Sports agents looking to partner with PLB Sports, or retailers interested in carrying their numerous product lines should contact PLB Sports at info@plbsports.com.
Contact
Ezra Digital
(412) 787-8800

Contact