Yellow Tail Wine Teams Up with "Sandwich King" Jeff Mauro for Food Truck Road Trip to Football's Biggest Game
Yellow Tail, America's No. 1 imported wine, takes food, fun and celebration to 32 stops in nine cities as food truck tailgate tour heads to Minneapolis.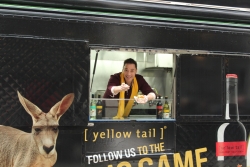 Stamford, CT, January 12, 2018 --(
PR.com
)--
[ yellow tail ]
is taking its uniquely Australian brand of fun and festivity on the road during the pro football playoffs in January, headed for the Big Game in Minneapolis in a custom branded food truck with football-friendly creations from celebrity chef Jeff Mauro.
Mauro, star of The Food Network (The Sandwich King, The Kitchen), has designed special sandwiches for the [ yellow tail ] food truck to feature at 32 stops in nine cities. The sandwich recipes will also be available for consumers to prepare at home – for tailgating, entertaining and enjoying games with family and friends. Mauro will help kick off the tour in New York City and reconnect with the food truck for special events in Minneapolis.
Featuring the unmistakable images of the "Yellow Tail Guy" and the Yellow Tail 'Roo, the food truck tour started by visiting Boston, Jan. 8-9, before rolling into New York with Mauro, Jan. 11-12. The truck will continue on to Philadelphia, Orlando, Tampa, New Orleans, Houston and Dallas before arriving in Minneapolis on Feb. 1, when Mauro will rejoin the tour.
"I'm a huge fan of football and tailgating, so I am excited to partner with [ yellow tail ] to bring a fresh approach to game time hospitality," said Mauro. "Lots of people are drinking wine at tailgates and game-watching parties – these recipes are perfectly matched to go with a wine like [ yellow tail ] and make the occasion special."
The sandwiches served on the food truck will include Mauro's Pig Candy BLT (crispy smoked bacon "pig candy," lettuce, tomato, onion and BBQ aioli, grilled on a buttered brioche bun), a Pastrami Reuben (peppery pastrami, aged swiss cheese, sauerkraut, Mauro's 18,000 island dressing, grilled on buttered marble rye) and a Veggie Buffalo Cauliflower Sandwich (crispy fried cauliflower with buffalo sauce, blue cheese crumbles, lettuce, tomato and ranch dressing, grilled on buttered brioche).
In 2017, [ yellow tail ] made history as the first wine brand in 40 years to advertise during the Super Bowl. The brand will return to the world's biggest advertising stage this year with an all-new Super Bowl commercial. The ad will be revealed prior to Super Bowl week as the [ yellow tail ] food truck makes its way toward the Twin Cities.
"Since launching in the U.S. in 2001, [ yellow tail ] made wine fun and approachable for millions of consumers previously turned off by wine pretention," said Tom Steffanci, President,
Deutsch Family Wine & Spirits,
U.S. importer and marketer for [ yellow tail ]. "The [ yellow tail ] food truck tour brings high quality, fun food alternatives to football-loving communities across the country."
"Just like the [ yellow tail ] brand, Jeff Mauro has the courage and desire to be different, to make high quality food fun and approachable," he continued. "This food truck tour will take the upbeat attitude and energy of [ yellow tail ] to football fans around the country, together with Jeff's outstanding culinary creations, representing a delicious and easy way to tailgate and enjoy the games."
In the Aussie spirit of fun and adventure, there is also a sweepstakes that will encourage anyone who encounters the [ yellow tail ] food truck to post a photo on social media with the hashtags #YellowTailgate #sweepstakes, making them eligible for a chance to win a trip for two to Australia. In addition, the tour will raise awareness for the worldwide hunger relief organization Rise Against Hunger to which [ yellow tail ] will be making meaningful contributions.
Contact
French West Vaughan
Charles Upchurch
919-277-1175
www.fwv-us.com

Contact