MiraGloss Company Created Skin Lightening Cream for Optimized Skin Clarity for the Asian Market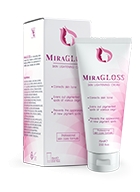 New York, NY, January 15, 2018 --(
PR.com
)-- It is a well known fact that air-pollution affects peoples' health, but there is no doubt that it affects the skin as well, aging people prematurely by as much as a decade. Bad lifestyle, excessive sun exposure and pollution are some of the main sources of damage to the skin – these can cause uneven and darker skin tone, dark spots, wrinkling, dryness, freckles, and other blemishes. Once these factors make the skin extra sensitive, it becomes more susceptible to irritation and allergies.
Inspired by the growing demand of skin whitening products, an American beauty-oriented company created MiraGloss skin lightening cream. The product, has fast spread outside US borders to Asian countries like Philippines, Vietnam, Thailand, etc. The great interest and huge demand has helped to lower the prices, which are now affordable for the average customer. MiraGloss composition of bleaching ingredients is intended to brighten pigmented spots of various origin (age spots, acne scars, freckles, etc.), to prevent appearance of new pigment spots, and to correct the skin tone.
Now MigaGloss cream is available in Asia. The product's manufacturer provide a discounted price for Asian citizens, since this is the first time mass market customers will have the chance to try the product.
Contact
MiraGloss Cream
Mélanie Laurent
+442037690614
www.miraglosscream.com

Contact