Stemedix, Inc. Celebrates 5-Year Anniversary
Stemedix, Inc., a medical solutions provider specializing in regenerative medicine, is proud to announce they have crossed an honorable milestone celebrating their 5th Year Anniversary.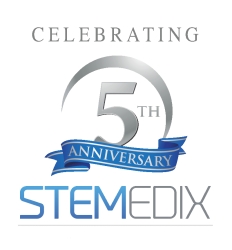 St. Petersburg, FL, January 23, 2018 --(
PR.com
)-- Stemedix, Inc. launched on January 23, 2013 in a stem cell industry that was in its early stages of performed regenerative medicine treatments after it was observed that stem cells could offer therapeutic regeneration in a 2012 clinical
study
by John Hopkins University and Cedars-Sinai Medical Center.
Stem cell research has progressed rapidly over these past five years and many studies are continuously being conducted and captured in scientific journals. Stemedix, Inc. not only has the goal to offer industry leading regenerative medicine treatment options, but to also be an educator of what stem cells are, their capabilities, and the possible benefits that may result from a regenerative medicine treatment to help strengthen stem cell awareness and knowledge. As a two-year award recipient by the St. Petersburg Award Program for the
Best of St. Petersburg Award
in the Medical Center category, Stemedix, Inc. continues their vision to be a trusted and educational resource for those researching and considering adult stem cell treatment.
"It makes me proud to announce this milestone achievement for our company. I would like to take this opportunity to express our gratitude for our patients who entrusted us to be a part of their journey and are touched by those who continue to keep us a part of their lives," said Fred Palmer, director of operations, at Stemedix, Inc. "Also, without the support and strength of our outstanding medical and operational teams, we would not be where we are today as they have made a difference providing a comfortable, educational, and personal experience for our patients. As we celebrate today, we are determined to continue our focus to educate and provide access to leading regenerative medicine treatments as they become available."
Over the last year, Stemedix, Inc. has been raising funding to give back to the community and as part of their 5-Year Celebration, Stemedix Inc. has a
limited time offer
for new patients that ends March 1st, 2018. This opportunity also includes their newest supplement offering,
Neo40 Professional
. Stemedix Inc. offers treatments for a variety of degenerative and auto-immune conditions such as
Multiple Sclerosis
,
Parkinson's Disease
,
COPD
as well as
Orthopedic
related conditions. Please visit our website for the offer details and call one of our Care Coordinators and learn how stem cell therapy may help you or your loved one.
Stemedix, Inc. is a medical solutions provider specializing in regenerative medicine. Our vision is to provide stem cell treatments for those seeking access to cutting edge alternative therapies. Not only does Stemedix, Inc. offer regenerative medicine to those globally, we help educate and provide information on stem cell sources and treatment options. The Stemedix difference is the quality of our Doctors, Care Coordinators and process. Each patient is personally hand held through the process by a Care Coordinator to understand what is expected during their journey, what are the next steps, and we offer customized treatment plans according to their condition, current age and health status approved by our board-certified physicians. As one of the originating United States service providers, we know the importance of having a worry-free experience.
www.stemedix.com
Contact
Stemedix, Inc.
Stemedix Marketing
(800) 531-0831
stemedix.com

Contact