The Landscape Architecture of Lawrence Halprin to Open in FORT WORTH COMMUNITY ART CENTER on JANUARY 26 2018
Exhibition about influential San Francisco-based landscape architect features projects throughout the US, including Heritage Plaza in Downtown Fort Worth.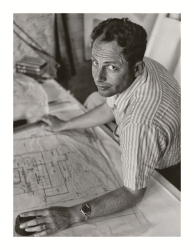 Dallas, TX, January 26, 2018 --(
PR.com
)-- The Cultural Landscape Foundation (TCLF) today announced that The Landscape Architecture of Lawrence Halprin, a traveling photographic exhibition about the life and work of landscape architect Lawrence Halprin (1916-2009), will open January 26th 2018, at the FORT WORTH COMMUNITY ART CENTER and will remain on view through February 17th 2018. The exhibition, which debuted at the National Building Museum in Washington, D.C., is organized and curated by TCLF. Created in 2016 during the centennial anniversary of Halprin's birth, the exhibition features 56 newly commissioned photographs by leading landscape photographers of dozens of Halprin's major works, ranging from recently rediscovered residential projects created early in his career in the 1950s to the Franklin Delano Roosevelt Memorial in Washington, D.C. capstone projects such as the Yosemite Falls approach and Stern Grove in San Francisco, and significant postmodernist projects including the Los Angeles Open Space Network. The exhibition both honors the influential designer and calls attention to the need for informed and effective stewardship of his irreplaceable legacy. Despite Halprin's renown, his built legacy is fragile. In fact, on December 21, 2017, one of the Los Angeles projects featured in the exhibition, Crocker Court (now called Wells Fargo Atrium), the only atrium Halprin designed, was demolished with no warning.
Lawrence Halprin was among the foremost landscape architects of the twentieth century. His prolific career spanned more than five decades, and the innovative techniques he pioneered changed the profession forever. The Brooklyn-born Halprin began his career in 1945 with a four-year stint working for Thomas Church in San Francisco, where he collaborated with architect George Rockrise on the renowned Dewey Donnell garden in Sonoma, California. He opened Lawrence Halprin & Associates in 1949, and his oeuvre initially included residential gardens, campuses, and housing projects. However, by the mid-1960s, his firm had turned decisively to re-designing major urban landscapes. A series of innovative parks, plazas, and pedestrian malls brought international notice and critical acclaim. When the Ira Keller Fountain (completed in 1970) opened in Portland, Oregon, New York Times architecture critic Ada Louise Huxtable called it "one of the most important urban spaces since the Renaissance."
Halprin, a Fellow of the American Society of Landscape Architects (ASLA), received numerous awards, including the ASLA Gold Medal (1978), ASLA Design Medal (2003), induction into the American Academy of Arts and Sciences (1978), the University of Virginia Thomas Jefferson Medal in Architecture (1979), and the National Medal of Arts (2002), the nation's highest honor for an artist.
"In the tradition of great artists, landscape architect Lawrence Halprin created a new and influential language," said Charles A. Birnbaum, TCLF's president & CEO.
Tary Arterburn, FASLA Studio Outside/Dallas and Mark Gunderson AIA/Fort Worth have organized the Exhibition locally with The Cultural Landscape Foundation to bring more attention to the renovation project currently under design by Downtown Fort Worth Inc.
A full-color printed gallery guide accompanies the exhibition with information about each of the sites, as well as a complementary online exhibition presenting additional photography, selections from a video oral history with Halprin, and assessments about the present condition of public Halprin commissions.
The exhibition, part of TCLF's Landslide program, calls attention to threatened and at-risk works of landscape architecture and landscape features, and will include photographs of some of Halprin's most iconic projects, from Sea Ranch in northern California (photography by Saxon Holt) to the Franklin Delano Roosevelt Memorial in Washington, D.C. (photography by Roger Foley), as well as several private gardens, including recently rediscovered early 1950s-era projects. Also included are photographs of the dance deck he created for his wife Anna (photography by Tom Fox), the famous choreographer, who fundamentally influenced Halprin's understanding of human motion through space.
The exhibition is presented with support from the National Endowment for the Arts Design Arts and the Hubbard Educational Foundation.
About The Cultural Landscape Foundation
The Cultural Landscape Foundation (TCLF) is a 501(c)(3) non-profit founded in 1998 to connect people to places. TCLF educates and engages the public to make our shared landscape heritage more visible, identify its value, and empower its stewards. Through its website, publishing, lectures and other events, TCLF broadens support and understanding for cultural landscapes.
Contact
Studio Outside
Laura Swindell
214-954-7160
www.studiooutside.us

Contact