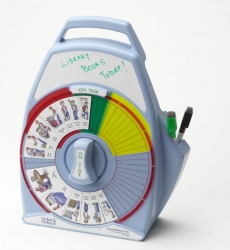 Cupertino, CA, February 28, 2008 --(
PR.com
)-- Timely Matters, Inc. launches, OnTask OnTime for Kids, a children's illustrated task and time management system. Invented by Moschel Kadokura, mother of triplets plus one, the OnTask unit guides children to independently complete each task in their morning, afternoon and bedtime routines.
Parenting experts agree that the most successful strategy to tackling difficult transition periods is to have a well structured routine. The On Task sets up that structure and then gives children a focal point to step through each task in a timely manner.
First, the goal of the routine is established; in the morning, it is to leave home on time; in the afternoon, tasks are drawn to complete homework, music practice, chores, etc; in the evening, the goal is to be ready for sleep. Then, together a parent and child set up a routine on one of the three plastic, color coded disks using 52 colorfully drawn task stickers. At the appropriate time, the child starts the timing mechanism by turning the routine disk on the On Task unit. As the routine disk moves, the child can focus on what he/she should be doing, what is coming up next, and what tasks already should be done. A demonstration video is available online at www.timelymatters.com.
Kadokura invented this system over thirteen years ago when getting her then five-year-old triplets ready for kindergarten. "Getting my kids ready was an hour-long struggle filled with my constant nagging and yelling," recalls Kadokura. "The first time I used this system, I had a wonderful feeling of being relaxed and in control during a once hectic and stress-filled time of day. I couldn't believe how my children would race to get each task done. Once they completed everything, they stood proudly by the door and said, 'We got ready by ourselves!'" Her children used the first prototype for four years.
With the input of over twenty families, Kadokura developed the current system and is introducing On Task On Time for Kids through online sales on her website www.timelymatters.com. The unit retails for $49.95 plus shipping.
Timely Matters, Inc.
20660 Stevens Creek Blvd.
Cupertino, CA 95014
Phone: 408 446-4242
Web:
www.timelymatters.com
Email: mk@timelymatters.com
###