FCP Euro Partners with LIQUI MOLY for 2018-2019 Pirelli World Challenge Campaign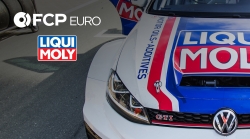 Milford, CT, January 26, 2018 --(
PR.com
)-- FCP Euro is proud to announce a new long-term partnership with LIQUI MOLY for the 2018-2019 Pirelli World Challenge seasons. FCP Euro has purchased two new 2018 Volkswagen GTI TCRs to campaign in PWC's new TCR class. The cars will be piloted by FCP Euro's own Marketing & Brand Director, Michael Hurczyn of Granby, CT, and their Director of Motorsport, Nate Vincent of Pomfret, CT.
LIQUI MOLY is no stranger to winning races in touring cars. "LIQUI MOLY has a long tradition in international Touring Car Racing," said Peter Baumann, Marketing Director for LIQUI MOLY. He continues, "We are involved in TCR International, TCR Asia, and TCR Middle East, and we are extremely excited to step into this new TCR adventure in the US together with FCP Euro. As the number one motor oil from Germany, and with a close relationship to Volkswagen, it's a great opportunity to increase our brand awareness by being part of the introduction of TCR in the US from the beginning."
FCP Euro is a leading online retailer of European auto parts and it is no surprise LIQUI MOLY is its top-selling motor oil brand. "Our customers are enthusiasts and they only want the best quality parts for their cars," said Nick Bauer, President and Founder of FCP Euro. He continues, "LIQUI MOLY is highly sought after by enthusiasts and we had to reorganize and dedicate an entire section of our Distribution Center to LIQUI MOLY to be able to keep up with demand!"
"Our motorsport program is a fantastic way to get in front of our customers," said Scott Drozd, CEO of FCP Euro. He continues, "We have big plans to expand further into the Volkswagen market this year and our new GTI TCRs are perfect to get our customers and fans excited. With the success that LIQUI MOLY has had with the cars overseas, we are looking forward to continuing that success here in Pirelli World Challenge."
Dave Bibb, LIQUI MOLY's Director of Sales - USA/Canada, also sees big opportunity for the partnership. He states, "Our partnership with FCP Euro competing in the USA's TCR series provides LIQUI MOLY USA with valuable sales synergy and brand strength. We know a partnership like this is a proven sales asset much like what the successful Team Engstler provides to LIQUI MOLY throughout the TCR circuit in Germany, Europe, and beyond...exciting stuff!"
For more information and to stay up-to-date on race team updates, visit race.fcpeuro.com.
FCP Euro Media Contact: Michael Hurczyn, Marketing & Brand Director - michael.hurczyn@fcpeuro.com.
About FCP Euro
FCP Euro is an online retailer of Genuine, OE, and OEM auto parts for European cars, specializing in BMW, Volvo, Audi, VW, Mercedes, and Porsche parts. Since 2001, FCP Euro has raised the bar for service and quality in the automotive industry and has become recognized by enthusiasts as the premier source for OEM and Genuine car parts. With a Lifetime Replacement Guarantee on all parts, Hassle-Free Returns, and free shipping on orders over $49, FCP Euro has continuously challenged the boundaries and advanced the standards of quality, service, and technology in the automotive industry.
About LIQUI MOLY
With over 800 employees, LIQUI MOLY is a globally recognized manufacturer of high-performance lubricants, motor oils, additives, vehicle repair products, chemical repair tools, service products, glues, and sealants.
Contact
FCP Euro
Michael Hurczyn
1-877-634-0063
www.fcpeuro.com

Contact