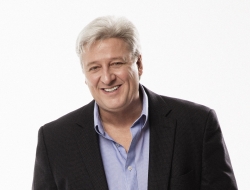 Nashville, TN, January 30, 2018 --(
PR.com
)-- Nashville-based talk show host and author Peter Rosenberger has been invited by U.S. Congressman Marsha Blackburn to attend President Trump's State of the Union Address on January 30, 2018. Calling on both churches and Congress, Rosenberger is seeking assistance to consider caregivers in the fight to curb the opioid epidemic and to realize their primary role in navigating through the necessary use of long-term opioid medication.
"As our country wrestles with the difficulties of health care challenges, and specifically the opioid crisis, the family caregiver brings a wealth of understanding to these issues," states Blackburn. "With his vast experience and insights, I am proud for Peter to be my guest at the State of the Union to help draw attention to this vital, but often overlooked group of Americans who daily find themselves between a vulnerable loved one fighting chronic pain - and even worse issues. Peter's presence and voice both provide another important step in addressing the need of America's millions of family caregivers."
A working model of caregiver support is needed to assist with the challenges facing caregivers and their loved ones, many of whom face the difficult decision between ongoing opioid use and chronic pain. The goal is to assist loved ones and their caregivers in developing a model of support to provide community and options in the medical field for pain control. Like with hospice care that calls on the provision of both emotional and medical support, a model of caregiver support would include both as well-an emotional support model and a medical, healthcare component as well.
GriefShare and other similar programs are a result of churches and governmental models partnering to provide a refuge for those faced with loss of a loved one or the challenges facing families today. Rosenberger recommends a similar program be modeled to provide solace for and a community for caregivers—many of whom struggle with necessary opioid use and dependency issues. Having an outlet and a group to provide support and a sense of community is vital for these oft-overlooked individuals in the spectrum of healthcare.
"I am proud that Congressman Blackburn has invited me to attend the State of the Union Address in Washington as her guest, and I am looking forward to attending the Majority Whip and Speaker's Reception as well," stated Rosenberger. "I am grateful that Congressman Blackburn is giving me the opportunity to help build awareness of the challenges caregivers face when it comes to opioids and opioid addiction – and how we deal with these issues as a family."
A 30-year caregiver for his wife Gracie, Rosenberger is calling attention to the crisis that the opioid epidemic in America has brought to caregivers and the ones they care for. Gracie Rosenberger's story is the impetus for Peter Rosenberger's work to provide solace for and an outreach to caregivers.
"A car accident in college left Gracie severely disabled with massive orthopedic trauma, eventually costing her both legs," explained Peter Rosenberger, "and she's had at least 78 major surgeries with, sadly, more in her future. If you are a long-term caregiver, at some point your loved one will be suffering with chronic pain. And the treatment for that chronic pain will most likely be an opioid of some form."
Host of the syndicated radio talk show "Hope for the Caregiver" and author of the books "Hope for the Caregiver" and "7 Caregiver Landmines…And How You Can Avoid Them," Rosenberger acknowledges opioid use as a necessary evil in some circumstances and is calling on churches and Congress to help address the challenges facing caregivers with a loved one who has the necessity of long-term opioid prescriptions.
"There are an estimated 65 million caregivers in our nation struggling to do their best to care for their loved one," commented Rosenberger. "As a caregiver for my wife for more than three decades, I've personally handled enough opioids that their street value easily runs into the millions."
These medications, when used properly and exactly as prescribed, allow loved ones to tolerate and navigate their pain. However, any regular use will no doubt result in the loved one's experience with some level of dependency.
Proper monitoring and dispensing of these dangerous medications can also bring challenges to the caregivers and to their medical care. "A caregiver walks a fine line between taking care of their loved one and becoming their enabler," commented Rosenberger. "Doctors walk the fine line between overshooting the mark, or undershooting it, when it comes to defining dosages. Both can cause anguish and upset, along with many other symptoms or side effects for their patient and your loved one."
Challenges also exist when relying on outside assistance to relieve the caregiver from the daily efforts that come with long-term caregiving. Short-term assistance, and to some extent long-term backup, necessitates the very real concern of theft of these pharmaceuticals. "When caregivers hire someone to step into our caretaking shoes for the day or for an extended period of time, it presents a difficult challenge to prevent the theft of these drugs. If the helper is only stepping in for a day, it is easier to control than if they will be there for any extended time. But it is still a concern – and one that we as caregivers deal with on a regular basis."
With opioid deaths growing exponentially in Tennessee and across the country, no one is asking the question, "What is it like to be a caregiver with someone who is taking opioids?" According to published accounts, an average of 97 Tennesseans died from opioid or heroin-related overdose every month in 2015. In 2016, the numbers grew to a total of 1,631 Tennesseans who died of a drug overdose—the highest rate in the state's history. "Tennessee is not alone in this growing epidemic," stated Rosenberger. "It's been reported that 64,000 drug overdose deaths occurred in the United States in 2016, the highest number ever recorded in our country. But what is it like to be the caregiver for a person who requires the opioid prescription and, by necessity, is expected to continue this need for the rest of their lives?"
"Approximately 20 percent of Americans serve as family caregivers and contribute an estimated $470 billion in unpaid, informal care and nearly 2 billion hours of their time," stated Rosenberger. "With all that, however, no one is asking what our experience is with chronic pain treatments, or seeking our input for improving the opioid crisis, when many of us have had to dole out opioids for many years."
On the heels of the nation's attempts to address the opioid crisis, including President Trump's initiatives to fund research to develop non-addictive pain-killers and to investigate models for safer practices for prescribing opioid medications, Rosenberger is hopeful that these efforts will result in safer care for loved ones and a model of support for those who provide that care. "My hope is to meet other leaders who will join me in continuing the conversation. In his 1972 hit 'Lean on Me,' soul legend Bill Withers wrote, 'Lean on me when you're not strong, and I'll be your friend. I'll help you carry on. For it won't be long til I'm gonna need somebody to lean on.'"
About Peter Rosenberger
A thirty-year caregiver for his wife, Gracie, who lives with severe disabilities, Peter Rosenberger understands the journey of a caregiver as few do. His experience led to him to author four books including Hope for the Caregiver, and 7 Caregiver Landmines and How You Can Avoid Them. Peter Rosenberger's radio show for family caregivers airs each Sunday at 3PM CDT on Newsradio 1510 WLAC. In addition, the show is also syndicated through the Truth Network. Peter and Gracie live in Nashville, TN, where he also serves and the president and co-founder of Standing With Hope.
For More Information, Please Contact:
Peter Rosenberger Jessi Maness
Standing with Hope (615) 969-6393
(615) 481-9964 Jessimaness@gmail.com
peter@standingwithhope.com
www.HopeforTheCaregiver.com