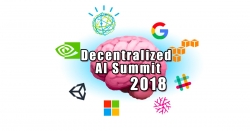 San Francisco, CA, January 30, 2018 --(
PR.com
)-- Synapse.AI today announced limited remaining ticket availability for its February 1 event, "The Decentralized AI Summit 2018," at The Fairmont Hotel San Francisco in The Venetian Ballroom.
Organized by the Decentralized AI Foundation, the Decentralized AI Summit 2018 attracts more than 200 of the best and brightest hackers, engineers, scientists, practitioners, and creators interested in the research, application, and impact of where and how Machine Learning, Artificial Intelligence, Blockchain, Cryptocurrency and IoT intersect.
Featuring Dan Gailey, CEO of Synapse AI, as keynote speaker and more than a dozen accomplished thought leaders in applied AI from Google, IBM, and Numerai, the Decentralized AI Summit will serve as a showcase for new technologies, emerging trends and disruptive developments around cryptocurrency, blockchain, and beyond in the industry sectors of:
- Healthcare/Genetics
- Internet of Things
- Autonomous Vehicles
- Robotics
- VR/AR
- Multi-agent Systems
- Vision
- Drones
- Robotics
- Quantified Self
When: Thursday, February 1, 2018, 8:30 AM PT to 5:30 PM PT.
Where: Fairmont Hotel, The Venetian Ballroom, 950 Mason Street, San Francisco, CA 94108
Tickets: To attend as a member of the media, please request a Media Pass by emailing the request to media@synapse.ai.
To purchase a ticket to the Decentralized Summit, please visit Eventbrite:
https://www.eventbrite.com/o/decentralized-ai-foundation-16182349020
Dan Gailey is CEO of
Synapse.ai
, the first decentralized AI market and network built on the Blockchain. Dan has a background in building intelligent multi-agent systems for a variety of interfaces across many platforms. Dan has previously worked in Venture Capital facilitating deal flow for cryptocurrency startups, and has an education in Electrical Engineering (Autonomous Robotics) and Computational Chemistry.