Endless Night Vampire Ball Returns to Los Angeles; February 23rd, the Globe Theatre
The Endless Night Vampire Ball returns to Los Angeles at The Globe Theatre with special performance by G Tom Mac.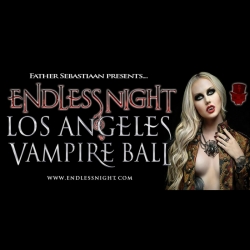 Los Angeles, CA, February 01, 2018 --(
PR.com
)-- The famed Endless Night Vampire Ball returns to Los Angeles on Friday, February 23rd, 2018. The enchanted event will take place at The Globe Theatre downtown. Heralded as "The #1 Halloween Soiree in the World" by TripAdvisor, the Endless Night Vampire Ball is best described as "Venetian Masquerade Ball meets a Vampire Court, with the Energy of a Rock Concert and the Elegance of a Burlesque Cabaret." This year's event proves to be especially unique with its theme: California Vampires honors The Lost Boys.
The year is 2018 and it has been 30 years since the Lost Boys coven has been destroyed in Santa Carla. Father Sebastiaan invites the Vampire World to the Endless Night Los Angeles Vampire Ball on AntiValentines Day for a grand gala in memorial. To honor the Lost Boys coven, guests are encouraged to bring their finest vampiric attire from history before the Midnight Cirque entered around a live performance G Tom Mac., writer and singer of the famous vampire song Cry Little Sister.
Doors to the event open at 9pm and the Endless Night will continue until 3am. The evening will be filled with lavish gentleman and beguiling ladies. DJs will keep the dance floors moving while guest explore the unique vendors and secret rooms at The Globe. Surprises await around every corner. At Midnight, a Cirque will be held on the main stage led by Father Sebastiaan and will feature a costume contest and special performances.
Dress code is strictly enforced. Guests are encouraged to "go all out" for Endless Night. Acceptable dress code for the event includes: 1980s finest Rockstar or Moviestar, Victorian, Edwardian, Latex, Ancient Cultures, Baroque, Medieval, Pagan, Elegant Gowns, Top Hats, Black Tie, Cloaks and Capes. Fangs and Legacy Ankhs encouraged but not required. Not accepted are: jeans unless it is apart of a Lost Boys / Rockstar costume. No superhero cosplay (unless it is done really well as a vampire), no street clothes. Be fabulous and amazing.
Tickets to the Endless Night Vampire Ball may be purchased online at
http://bit.ly/LAVampireBall
. VIP packages are available.
To schedule an interview with Father Sebastiaan, or to coordinate press coverage of the Endless Night Vampire Ball, please contact Stephen at SMT Entertainment, SMTentertainment@gmail.com.
Contact
Vampire Ball
Stephen M. Thornton
813-690-2810
endlessnight.com/

Contact