The ACCS "China Oscar Night Gala" Hosts an International Extravaganza for Dignitaries, Hollywood Celebrities and VIPs
ACCS is excited to announce its Oscars China Night, an Oscar viewing gala with CEO Awards ceremony to take place on Sunday March 4 at Beverly Hills Sofitel Hotel.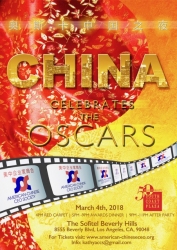 Los Angeles, CA, February 01, 2018 --(
PR.com
)-- The American-Chinese CEO Society (ACCS), a highly respected non-profit organization of CEO's from high-profile US and Chinese companies, announced their annual "Chinese Oscar Night Gala and Award Ceremony."
The Chinese Oscar Night Gala and Award Ceremony is a multi-cultural celebration and Oscar-viewing awards dinner taking place Sunday evening, March 4th, at the chic Sofitel Hotel in Beverly Hills.
The ACCS, an esteemed business networking organization headquartered in Los Angeles, Shanghai and Beijing, is dedicated to connecting US and Chinese business leaders to help foster international business deals, investments and trade. They have worked for years to promote valuable economic exchanges between the US and China, and to foster trust and enhanced communication between their many members from different nations.
To better serve their members in the entertainment industry and promote international film and television co-production, the ACCS China Oscar Night Gala will bring together US and Chinese dignitaries, film industry professionals, Hollywood celebrities and VIP's for an extravaganza of sight, sound, and high society.
Invitees and Honorees include: Former Disney Chairman, Dick Cook, Hollywood producers Arthur Sarkissian, Andre Morgan, and Julia Pierrepont III, 20th Century Fox's Head of Production, Xian Lee, noted Chinese producer Leo Liu, talented Hollywood stars, Viggo Mortensen, Channing Tatum, and Michelle Rodriguez, as well as famed Chinese director/producer Qiankuan Li, Chairman Emeritus of China Film Association, President of China Film Foundation; You Xiaogang, China top tier movie and TV director and producer who won nearly 100 awards from inside and out of China; Guiyun Xiao, the only female winner of Golden Rooster "Best Director Award" in China; Zhang Jizhong, one of the most famous Chinese film producer, director and writer; famous Chinese movie star Heidi Wong; together with Tang Guoqiang, the multiple awards winning actor who is the all-time first choice for emperors in Chinese movies; and many more.
Highlights of the sumptuous dinner will include: ACCS awards, a high fashion runway show, gifted Chinese performers, talented American musicians, and a fun, DJ dance after-party to cap off this special event.
An informative film co-production panel discussion and script pitch fest will take place earlier in the day to promote US-China co-productions, with a cash award to the winning pitch.
The evening will be sponsored in part by American Airlines and high-end retailer, South Coast Plaza.
Sponsorships, group tickets and press kits are available through the ACCS at: www.American-ChineseCEO.org or email Kathy for more information at: kathyaccs@gmail.com or call 1-714-715-7318
Contact
American-Chinese CEO Society (ACCS)
Kathy Kung
714-715-7318
https://www.american-chineseceo.org
WeChat: Translator_LA

Contact