Property Boom: Coast Prices Set to Skyrocket by GPS Group Development Plans
Located in Ciudad del Carmen Municipality in Campeche State - 50 kilometers from the City of Carmen - Isla Aguada has it all to become the new tourism hot spot.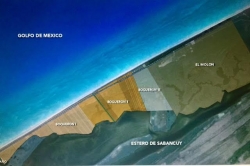 Merida, Mexico, February 06, 2018 --(
PR.com
)-- With two village communities comprising over 10,000 villagers, the island which is connected with two bridges to the mainland has the most attractive beach in the State of Campeche for both local and international tourists.
And this area is set to be the new tourism hot spot due to the announcements of upcoming eco-hotel projects to be developed in the 10km long beach to the north of Isla Aguada.
To boost development in Isla Aguada, in January 2018 GPS Group, the biggest landowner in the area, announced the ''Zero Down'' owner financing program to land investors and plans to start building the first eco-hotel resort and marine life observatory this year following 49 other to develop eco-bungalow hotels and luxury eco-resorts on the island. Both the government and the GPS Group aim to transform the island into the most attractive sustainable tourist destination in Yucatan Peninsula.
Mr. Toni Kauhanen, the international real estate Investment advisor, said, "Isla Aguada will become one of most attractive islands of Mexico owing to its natural beauty and upcoming sustainable eco-development projects by the GPS Group and another 100 smaller firms."
Meanwhile, Mr. Ricardo Bacerra, Sales Director of Merida Realty Real Estate, based in Merida, Yucatan, said, "Isla Aguada is one of the most beautiful beach islands in Mexico, attracting a lot of national and international tourists every year. Every time tourists visit Campeche, they never forget to visit Isla Aguada.''
"Development plans in Isla Aguada will be a huge benefit to local people as the land price is expected to skyrocket and residents will have a better chance of earning more money when more and more tourists flock to the island."
Mr. Bacerra continues, "Isla Aguada is an island of great future potential, especially for tourism sector since it is one of the most beautiful islands in Mexico, offering best place for relaxing and refreshing with lagoon and beach area. Local people can run every type of small businesses to respond to local market's demand. They will feel delighted with more job opportunities which ultimately raise their standard of living."
Mr. Erik Rebollero, Managing Director at Property World Invest, based in Campeche with an office on Merida, said, "Isla Aguada will be next boom destination for real estate investors in Mexico, in particular, those focused on high-end hospitality."
Mr. Michael King from Real Estate & Investments Solutions Ltd said, "Investors should turn their attention to Isla Aguada land investment, as at the moment the land price on the island is much cheaper than the other beach areas developed in Yucatan, where speculation from investors, in particular, Mexican, European, US and Canadian, is pushing prices higher. This is stunting ongoing investment in the coast of Quintana Roo State, and price speculation is becoming ridiculous. Regarding local MLS the average oceanfront prices on Isla Aguada beach however now are around $15 000 USD - 30 000 USD per linear meter - compared to over $190 000 USD linear meter along with the Riviera Maya coastline. Furthermore, the beaches of Isla Aguada are some of the finest in the region."
Mr. Felipe Duque, CEO of BPB Ltd, a real estate consulting firm based in Cancun, said that "Eco-tourism development will offer a positive benefit for both residents and investors. Villagers will meet a great opportunity of land price growth for their plots of land - and their business opportunities will grow quickly now. Meanwhile, investors will receive a 100% guarantee that they can now safely purchase the land on the island with fully respected hard title ownership."
He added that, "We can expect the future of Isla Aguada to be very bright. While the beach land is small, demand for that land will be huge once the first projects are ready. This is an exciting time to live and do business here."
Contact
GPS Group
Mikael Nordstrom
+5219991447039
www.globalpsg.com
US 646 583 0170

Contact