New Kentix IP Keypad Reader: Access Control with IP Video Integration Now Available in the US
New Kentix IP Keypad offers easy scalability and added video security.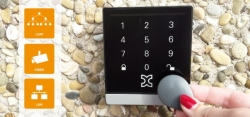 Landing, NJ, February 12, 2018 --(
PR.com
)-- The New Kentix IP Keypad - Online Access Control System with Video Integration
The new Kentix IP Keypad offers the possibility to unlock doors with RFID and/or by PIN code (two-factor-authorization) with easy plug and play Cat 5/6 installation.
The Kentix IP Keypad central unit with network access is established by a network relay module. The unit itself is wall-mounted and uses PoE (Power over Ethernet). An integrated web server enables central monitoring and administration from any location. The network relay module communicates with the IP Keypad via a BUS connection.
Easily scalable and simple to deploy, adding additional doors or rooms is as simple as adding additional keypads as expansion readers. Power for the expansion reader is supplied via the Kentix AccessPoint (KXP-2). If additional rooms or doors are to be integrated, several network relay modules can be connected via a master-slave mode to one system with central administration.
As always with Kentix, they strive to provide the ultimate in plug and play solutions.
In addition to this, Kentix has also added IP video integration for enhanced physical security needs. Each door in the system can be connected to an IP camera that is triggered with each unlocking of the door, recording a series of photos. The photo sequence is then saved in the logbook together with the user data and timestamp, which can be accessed at any time. In the event of a false entry or attempted sabotage, the system administrator immediately receives an email with the pictures attached. This system is ingeniously simple, with no additional required parts, and is proven to offer a dramatically increased level of physical security across the entire premises.
With collaboration being one of their core values, the Kentix IP Keypad has compatibility with both AXIS and Mobotix IP cameras. These are two companies who share a passion for excellence in product quality and security.
Call or Email today – Kentix is offering live demos and free trial kits: 844-KENTIX2
www.alternateesource.com/product/kentix-doorlock/
Contact
Alternate E Source/Kentix US
Tanja Lewit
973-600-5170
www.alternateesource.com
844-KENTIX2

Contact
Multimedia
Kentix overview brochure and planning guide - smart building blocks for your infrastructure security.