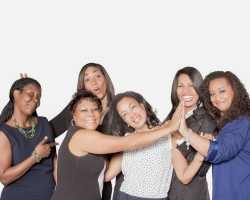 Los Angeles, CA, February 14, 2018 --(
PR.com
)--
20/20 Investment Club
Recognized as One of Nation's Longest Running is Setting Out to Inspire Others
Celebrating its 20th anniversary, 20/20 Investment Club has launched "Campaign INSPIRE!", a national women's empowerment initiative designed to celebrate the power of unity at a critical time in our nation's history.
Led by the club's founder, Sonya Weaver-Johnson, former day trader and IT professional, the effort is designed to educate and engage women on the importance of not only investing, but also coming together for a great purpose with grand outcomes. Campaign INSPIRE! is an outgrowth of the club's motto, "Learning and Earning" together.
"It's hard to believe 20 years have gone by since I mailed the now infamous letter to 20 of my closest friends," Weaver-Johnson said. "In this letter, I shared my wild idea of starting an all-female, investment club and I invited all of my girlfriends to join me. About two weeks later, 14 friends arrived at my home ready to hear me out. Thank you for helping to develop an unlikely idea into such a rich and fulfilling reality."
Weaver-Johnson said the club has afforded her a lot more than the traditional investment knowledge she was seeking. "I've gained a unique perspective on running a business and a greater appreciation for the role American companies play in the global economy. Best of all, I've established some amazing, life-long friendships."
20/20 Investment Club is organized as a California general partnership. The club has a diverse, all-female membership, all whom reside in the Greater Los Angeles area and have a wide variety of professional backgrounds. Guided by an intensive stock study program, it uses pooled resources to regularly invest in the U.S. stock market. While the club's primary objective is to maximize profits, the group also aims to provide each member with a solid foundation in the principles of investing. 20/20 Investment Club has a proven investment strategy and consistently operates as one of the best performing investment clubs in the country. The club's primary goals are ongoing education, maximum profits, and "lots of fun."
Along with Weaver-Johnson, the club's members represent many industries including: legal, education, healthcare, entertainment, insurance, politics and information technology.
Since its inception, 20/20 Investment Club has been a member of Better Investing (formerly NAIC), a non-profit investor organization, and has used Better Investing resources as a guide for managing club operations and investment education.
Here are a few highlights of 20/20 Investment Club's success:
· The club's portfolio recognized a 13.64% Compounded Annual Return (CAR), for the 10-year period ending 12/31/17.
· During the most recent 1-year, 5-year and 10-year periods, ending 12/31/17, the club outperformed both, the Vanguard 500 Index Fund (comparable to the Standard & Poor's 500 Index) and the Vanguard Total Stock Market Index Fund (similar to the Wilshire 5000 Index).
· Resulting from the club's ongoing education program, all members have become highly proficient investors.
· In celebration of its 10-year anniversary, club was featured in Black Enterprise magazine, in 2006.
· Club shared its formula for success as guest panelists on "Opportunity2Network" (syndicated on public access TV), in 2007.
· Club announced its commitment to investing during the economic downturn when featured on Voice of America (VOA) - U.S. federal government broadcasting network, in 2008.
To set up interviews with the club's founder, contact Neil Foote, Foote Communications LLC, neil@neilfoote.com. To learn more about the club, contact Sonya Weaver-Johnson, sonya.weaverjohnson@gmail.com.
Check out 20/20 Investment Club on social media:
Website: www.the2020investmentclub.com
LinkedIn: https://www.linkedin.com/company-beta/18032068/
Facebook: https://www.facebook.com/2020investmentclub
Instagram: https://www.instagram.com/2020investmentclub/
Twitter: @2020ic